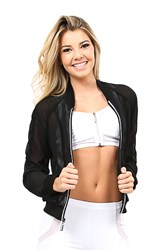 "CCR BRAND jackets and backless rompers are being seen in the clubs and along Melrose.
Los Angeles, California (PRWEB) October 10, 2013
Model Elle Evans from Robin Thickes Blurred Lines video has been spotted around Los Angeles wearing the mesh leggings and matching jacket. Along with other top models revealing a highly anticipated collection that includes the white jacket with mesh leggings.
Mesh leggings with jacket can be found on CCR BRANDS newly launched Ecommerce site. or seen at LA FASHION WEEK starting this Sunday October 13.
Demand for Drop Crotch Pants has been increasing by the week, as well as jumpsuits in the mens line which can also be seen starting Sunday, October 13, at LA Fashion Week.
CCR BRAND began with jumpsuits worn by Rihanna, Katy Perry and Britney on music videos and seen around LA. They now have a full collection for both Men and Women.