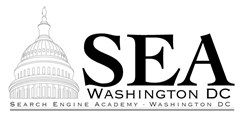 Google Plus has a lot of features and benefits that are search-engine friendly. I'm going to share some in-depth knowledge...
Washington DC (PRWEB) October 10, 2013
Search Engine Academy Washington DC (SEA DC) and Start Somewhere have formed a partnership to deliver an online class on how to use Google Plus communities and pages for social good organizations.
This is an online event scheduled for Wednesday, October 30, 2013 2PM Eastern Time. Start Somewhere is hosting the event and Search Engine Academy Washington DC is providing the instruction.
Start Somewhere provides a comprehensive range of database and website support services for non profits (social good organizations) to enable them to use cutting edge web and salesforce technology at affordable prices. SEA DC provides training and SEO support to non profits in the DC area already, so a partnership with Start Somewhere is a good fit.
According to Nancy E. Wigal, the owner and operator of SEA DC, "I met Leanne Pittsford, the Co-Founder & CEO at a business networking event here in DC. She was interested in seeing how we could work together, and since Start Somewhere was developing a series of online classes, she asked if I was interested in sharing some SEO knowledge with social good organizations. I love the idea, so this is our initial class."
The class will be done online. Interested non profits may register now. The cost is $20 per attendee.
Non profits that are looking for expanded social media and search engine optimization strategies that are cost-effective and expose the organization's content to a larger audience should register to participate in this class to learn how to use G+ communities to foster relationships with interested prospects.
"Google Plus has a lot of features and benefits that are search-engine friendly. I'm going to share some in-depth knowledge on how to best leverage this fairly new social media platform so that non profits get more visibility on the internet and gain more potential donors," according to Nancy.
About Start Somewhere: They are an organization that offers web design, database and CRM support, as well as online content strategy and offline marketing materials to social good organizations. Non profits can choose from three different packages to get comprehensive technical and marketing support for increased leads and donations.
About Search Engine Academy Washington DC: Part of the Search Engine Academy, SEA DC offers two, three and five day SEO training and certification courses, as well as private corporate training and custom SEO workshops ranging from a half day to three days.