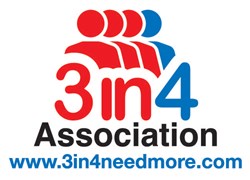 Fort Myers, Florida (PRWEB) October 09, 2013
Today Rob Cohen, CPA, a long-term care insurance leader with ACSIA Long Term Care, announced his commitment to LTC education by accepting a position on the Advisory Board of the 3in4 Association. Rob has over 21 years of progressive experience in the LTC industry, including running the largest division of a major national long term care insurance carrier, founding a national LTC brokerage, and testifying in his state Congress on consumer advocacy and advancing the impact of the state LTC Partnerships.
With the 3in4 slogan, the group seeks to educate the public on an important fact: that at least 70 percent (roughly 3 in 4) of people over age 65 will require some long-term care services at some point in their lives, according to a statement from the U.S. Department of Health and Human Services.
In spite of the widespread and growing need for long term care planning, a fraction of those who could benefit from a planning session have taken advantage of this opportunity. The group seeks to make the public aware of the high odds of requiring extended care and the imperative to plan in advance.
About The 3in4 Association: The 3in4 Association operates as a nonprofit 501(c) (6) corporation and the "3in4 Need More" campaign is a public service of the 3in4 Association. The Association is dedicated to raising awareness about the importance of long term care planning, and also provides education on products, services and programs to consider during plan design. More about plan designs at http://www.CompleteLongTermCare.com.
About ACSIA®
Founded in 1958, ACSIA® is a leading national distributor of Long Term Care insurance. ACSIA® is a member of the LTC Global group of companies and headquartered in Fort Myers, Florida. For more information about ACSIA®, visit http://www.ACSIA.com.