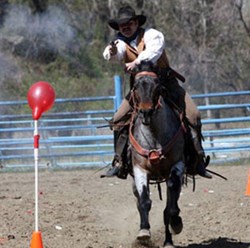 Duncan, OK (PRWEB) December 03, 2013
The Cowboy Mounted Shooting Association brings "Revolvers and Rhinestones" to the indoors of the Stephens County Fair and Expo Center in Duncan, OK on December 13,14 and 15th, 2013.
A new event to Stephens County, and indeed all of Southwest Oklahoma, the CMSA's "Revolvers and Rhinestones" will bring over 125 of the top shooting contestants from around the United States of America to the Heart of the Chisholm Trail. The sport, combining superb horsemanship and amazing skill with fire arms, will have spectators cheering loudly during this fast paced, family friendly event. Add Christmas shopping with the Cowboy Christmas gift show as an added bonus, and it will be an event you do not want to miss. General admission is $5/person.
For vendor information contact Donna at 402-419-0191 or rankinds(at)esrthlink(dot)net. for general information contact The Duncan Convention and Visitors Bureau at 800-782-7167 or visit http://www.duncancalendar.com.