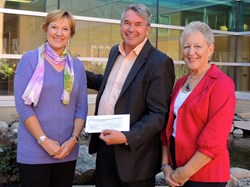 The Auxiliary is grateful for the dedication and hard work of the many Auxiliary members over the years. -Lillian Leonard
Kemptville, Ontario, Canada (PRWEB) October 08, 2013
The Kemptville District Hospital (KDH) Auxiliary has just marked a momentous milestone: it has now donated over $1 Million to the hospital since the Auxiliary founding in 1959.
The KDH Auxiliary plays a vital dual role for the hospital: both raising funds to purchase essential medical equipment, and providing volunteers for every area of the hospital. Last year alone, Auxiliary volunteers gave more than 11,000 hours of their time to KDH.
Amazingly, the Auxiliary has raised $270,000 – more than a quarter of its million-dollar contribution – in the past four years: $163,000 through its annual giant garage sale, HeyDay, as well as the hospital gift shop/coffee bar, and annual quilt raffles; and $107,000 raised specifically for the Auxiliary's pledge to the hospital's Mammography Campaign.
Of the $107,000 contribution to the Mammography Campaign, $37,500 was donated by Auxiliary members, while $69,500 was raised by walkers in the Weekend to End Breast Cancer (2010 and 2011) and Kemptville Walks for Mammography (2012 and 2013). Having pledged $100,000 to the Mammography Campaign, the Auxiliary recently marked another milestone by surpassing its goal by $7,000.
Auxiliary donations are used to purchase essential medical equipment for patient care at KDH. Some recent purchases include a bone mineral densitometer (which predicts a patient's risk of osteoporosis), cardiac monitors, a defibrillator, IV pumps, blanket warmers, a video colonoscope, a patient lift, and the hospital's state-of-the-art digital mammography unit, to which the Auxiliary made a major contribution.
Beyond these donations, the Auxiliary also covers the cost of several smaller contributions to the hospital: a monthly "order-in" meal for residents on the interim long-term care unit; monthly birthday cakes and Christmas gift packages for these residents, as well as training and supplies for pastoral care volunteers on the unit; Christmas decorations throughout the hospital each December; and ongoing support for the maintenance of Beth's Garden.
Current Auxiliary President Lillian Leonard expressed the group's thanks, "to all the community members who have made this possible, by donating items to HeyDay, volunteering at HeyDay, shopping at HeyDay, shopping at the hospital gift shop/coffee bar, buying 50-50 tickets and quilt raffle tickets, and sponsoring walkers."
"The Auxiliary is grateful," she added, "for the dedication and hard work of the many Auxiliary members over the years who have volunteered, sold tickets, participated in the walks, and staffed and managed HeyDay and the Gift Shop."
About Kemptville District Hospital
Kemptville District Hospital is Accredited with Exemplary Standing, the highest ranking bestowed by Accreditation Canada. Committed to building healthier communities, we are a model of hospital-led integrated health services within the provincial health system. Kemptville District Hospital consistently ranks among the top hospitals in Ontario for both patient and employee satisfaction. We pride ourselves on being a good partner within the system. We operate on two sites and provide primary care management services, acute care hospital services, and advanced orthopaedic care.