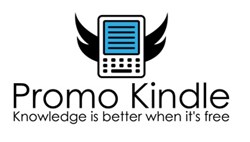 Promo Kindle is spreading the word on no cost Amazon Kindle downloads.
Los Angeles, CA (PRWEB) October 10, 2013
A great book has the power to shape your thoughts, inspired a new perspective or philosophy on life or be a form of great entertainment. A few decades ago the only way people could read a book was in a paperback or hardback form. If someone wanted to read a book they would purchase it at their local bookstore or borrow them from their library. The problem with the paperback books was it could easily be ruined if someone spilt coffee, food on it or worse could be torn. However, since the digital boom in 2000 and the internet, it literally changed the way people consumed written material.
Nowadays reading a digital book (eBook) has become more fashionable since Amazon launched their Amazon Kindle device. EBooks are now the best form of consuming fictional and non-fictional stories, poetry and information. The best thing about eBooks is that a person can purchase them twenty fours a day, seven days at week so you do not to pay post and packaging or have to wait weeks to be delivered to your door. Amazon Kindle is a great way to read digital books on the go and the ideal place for book lovers worldwide.
The current economy has forced many families to re-evaluate their expenditure in order to save their money while still enjoying the amenities of life. Since the credit crunch people are now living frugal lifestyles. This inspired the website Promo Kindle as they recognize the need for a site that supplies Amazon Kindle readers an opportunity to download the top rated books at no cost.
Promo Kindle provides an excellent service by supplying their subscribers a daily list of the highest rated kindle books that are available to download. Promo Kindle is the number one website to download EBooks instantly and it helps to save money. To start downloading your favorite books at no cost, go to http://www.promokindle.com today.