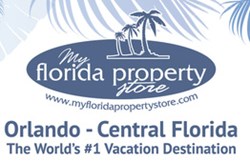 Orlando, FL (PRWEB) October 09, 2013
Central Florida real estate group specializing in the representation of out-of-state citizens and foreign nationals, My Florida Property Store (MFPS), has seen a drastic increase in interest in Central Florida homes proving that the Florida real estate market is on the upswing. My Florida Property attributes the heightened interest to a variety of perks the Central Florida region offers. The expert REALTORS® at My Florida Property Store have put together a quick list of factors contributing to the extreme growth in the Florida real estate market since the economic crash of 2008.
1. Beautiful Weather – Central Florida has sunshine year round with extremely mild weather in comparison to other regions on the U.S. East Coast.
2. Coveted Travel Destination – With more than 58 million visitors annually, Central Florida is one of the most visited regions in the U.S.
3. Easily Accessible – With 3 international airports, one being the 3rd largest in the U.S., travel to and from Central Florida is extremely convenient. The state commuter rail system also runs through Central Florida.
4. Top Rated Schools and First Rate Healthcare – Central Florida has A grade public and private schools and is also home to a wide variety of nationally ranked healthcare centers and hospitals.
5. Shopping – Orlando offers a multitude of world-class shopping malls, outlets, and award winning restaurants.
6. Golf – Central Florida boasts 177 golf courses, 23 golf teaching facilities and academies.
7. Tech Industry Hub – Central Florida's 2nd largest industry is biotechnology and is home to Lake Nona's Medical City.
8. Outdoor Activities – Access to freshwater lakes, the Atlantic Ocean, and Gulf Coast make water sports a daily activity in this outdoor paradise.
9. Tax Friendly – There is no state income or inheritance tax throughout Florida.
10. Diversity – Central Florida has a growing population of residents from outside of the U.S., a mixture of families, young adults and seniors. It is a place that is truly suited for all.
Through hundreds of home purchases, My Florida Property Store has seen the above factors influence buyers and sellers of Central Florida real estate heavily. For those looking into the possibility of owning a property in the World's Number One Vacation Destination and wanting to work with a professional, ethical and trusted company My Florida Property Store is that brokerage. To learn more about the many services My Florida Property Store provides please contact us at +1 (407) 566-2029 or visit MyFloridaPropertyStore.com.
About My Florida Property Store:
My Florida Property Store (MFPS) specializes in the representation of foreign national and out-of-state clients in the buying and selling of investment properties, for short-term or long-term rental. MFPS boasts an extensive database of Villa Style Homes, Condos and Town Homes in Central Florida with a focus in Celebration, Davenport, Dr. Phillips, Kissimmee, Reunion, Windermere, the Metro Disney area and Lake Nona – "Medical City" corridor. The MFPS team is fully familiar with local customs in multiple countries around the world which is essential in order to communicate detailed local purchase information in an easily understood, simplified and explainable fashion. My Florida Property Store is a member of the Osceola County Association of REALTORS® and the National Association of REALTORS®.