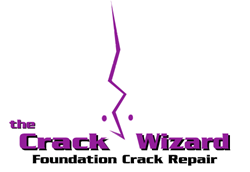 Homeowners with cracked and leaking basement walls want pricing and scheduling details right away, so this is literally the perfect "rainy day" app
St. Louis, MO (PRWEB) October 09, 2013
The Crack Wizard, foundation and basement crack repair experts, announces the launch of its free mobile app for all smartphone and tablet
operating systems. The Crack Wizard app is available for free at http://www.thecrackwizard.com, and allows customers to quickly and easily get immediate repair quotes and helpful information regarding leaking foundation cracks and wet basements.
"Cracked and leaking foundations are one of the biggest problems facing homeowners. People with leaking foundations want pricing and scheduling details right away, so this is literally the perfect 'rainy day' app," says William Millonas, Operations Manager for The Crack Wizard. "Our easy-­to-­use app allows customers to quickly get the repair information they need in a very efficient manner".
"The Crack Wizard's mobile app is customized for all operating systems, and complements our mobile­friendly website", says Millonas. "Also, we work with many Realtors, home inspectors and contractors, all of whom are increasingly dependent on their mobile devices. Once our app is on their phone or tablet, they have immediate access to relevant content that is helpful to them and their clients. When you're dealing with a leaky basement, you want immediate answers, and that's what our app provides".
The Crack Wizard utilizes injectable epoxy and urethane resins to permanently and affordably waterproof cracks in poured concrete foundation walls.
About The Crack Wizard
The Crack Wizard specializes in foundation crack repair, and services residential, multi-­unit, and commercial properties in Missouri, Illinois and Kansas. The Crack Wizard provides affordable, guaranteed repairs backed by The Crack Wizard 'Lifetime of the Structure' Warranty.
"For A Crack In Your Wall, Give The Wizard A Call".
Contact: info(at)thecrackwizard(dot)com
Phone: (888)­CRACK­WIZARD (1­-888­-272­-2594)