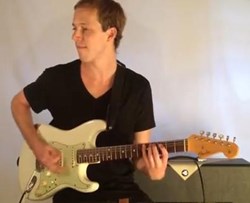 (PRWEB) October 09, 2013
In this exercise on how to play blues on guitar with a little something extra, Jon uses a shuffle rhythm in the key of E. The blues chord progression is the traditional 12-bar pattern of I-I-I-I, IV-IV, I-I, V, IV, I, V, where I is E, IV is A and V is B7. Instead of playing the full chords, Jon plays two-note chords, adding embellishments and pull-offs that help the player play the blues convincingly.
Printable tabs written in tablature and notation style accompany the lesson. Start slowly and build up speed a little at a time. After learning the basics, players should try adding licks of their own to develop their own personal style.
For examples of this style, try listening to as many of the great players as possible, such as Stevie Ray Vaughn, Johnny Winter, Albert King, Freddie King, early Eric Clapton, Matt Schofield and many others. Enjoy and learn more from Jon MacLennan and all the teachers at Guitarcontrol.com in the free video guitar lessons in many styles at http://www.youtube.com/guitarcontrol.
GuitarControl.com, a leader in video music education, is the brainchild of Philadelphia guitarist Claude Johnson. Since 2004, it has offered online lessons and DVDs taught by virtuosos in styles ranging from rock, metal and blues to jazz, bluegrass, country and fingerstyle; as well as courses for vocals, drums, bass and keyboard; and music software, song collections and jam tracks.