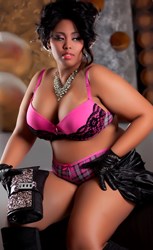 Until now, the choices have just not been there in mainstream intimate wear for plus size women.
New York, NY (PRWEB) October 09, 2013
Women have curves and Nfinite Form wants women to fall in love with their curves all over again with Ntimates Intimate Apparel. The line offers sexy, sensual and sophisticated options for full-figured women---and the men who adore them.
The company began almost five years ago when Paula Michelle, a human resource professional, English professor and former plus-size model, became frustrated with the limited options available to full-figured women. Instead of just complaining about it, Paula decided to put her 15 years of business expertise into action. She shared with her daughter, Trice', the idea of a business that would bring real fashion to real women.
Trice, a school teacher with a background in psychology, always had a keen eye for fashion and a love of advertising. She was a natural choice to join Paula in the venture. Trice' also married well. Her husband, B.K. Lamb, would bring to the duo his expertise in marketing and photography. His background in engineering and technology would also prove to be a valuable resource. The only piece missing was the perspective of the "every-woman," the person to whom they would actually be marketing their brand. That perspective would come in the form of colleague and associate, Cheryl, a law enforcer looking to explore her creative edge.
Nfinite Form's first foray into the plus-sized fashion scene would be International National New Jersey Full-Figured Fashion Week. It was a huge success. From the lauded reception came the inspiration to create intimate wear that would give women a sexy, yet classy plus-size alternative.
"Until now," says Paula Michelle, "the choices have just not been there in mainstream intimate wear for plus size women."
When women see all of the Ntimates options available, they will rekindle the love affair with their natural beauty.