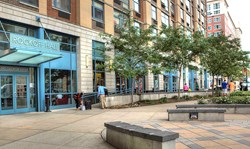 We are excited to bring this nationally-accepted student housing model to Rutgers for the first time.
New Brunswick, NJ (PRWEB) October 10, 2013
Hundreds of students at Rutgers University will feel more relaxed this winter when they skip the stressful on-campus housing lottery process and still score upscale housing near campus.
Rockoff Hall, one of the newer residence halls at Rutgers, is now being privately leased to students through its new owner, McKinney Properties, one of the top 25 owners of student housing nationally. Conveniently located at 290 George Street, the community offers 674 beds in fully equipped apartments in downtown New Brunswick. The only changes students will notice in the transition from on-campus to off-campus housing are positive ones: no more lottery system, individual by-the-bed leasing, and new upgrades to the units and amenities.
"We are excited to bring this nationally-accepted student housing model to Rutgers for the first time," said Rodd Werstil, managing director of real estate investments for McKinney Properties. "For the first time in this market, students will have access to modern, all-inclusive housing that is purpose-built for them, without the restrictions that come with living in an on-campus residence hall. We understand the struggles that many students face in identifying high quality, student-focused alternatives to on-campus housing. Rockoff Hall will now be that perfect solution for 674 Rutgers' students."
Along with offering relief from the University's housing lottery, students will appreciate the "all-inclusive" model at Rockoff Hall, meaning that each student's rent includes all furniture, security, all utilities including cable and Internet, and unlimited access to on-site amenities. Plus, apartments are leased by the bed so each student is only responsible for his or her individual rent, and roommate matching is available for interested residents.
"It's an enormous benefit for students and their parents to not have to be concerned if their roommates are paying their rent on time," said David Strassberg, leasing manager for Rockoff Hall. "It's shocking how many students end up having their credit ruined because they were held responsible when a roommate didn't pay his or her share of the lease and the utilities."
Rockoff Hall boasts convenient on-site amenities, such as a fitness center, business center with free printing and computer access, common areas for studying, TV lounges, ground floor retail and also has a courtesy service officer on-site during hours when the leasing center staff is not on-duty.
Students are able to sign leases now to guarantee their spot at Rockoff Hall in June 2014.
For more information, please visit http://www.rockoffapartments.com.