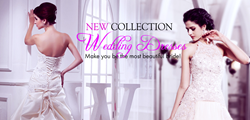 (PRWEB) October 09, 2013
Recently, FairyIn.com, a reliable supplier of all kinds of wedding dresses and other special-occasion outfits, has updated its website, and added a new channel in Portuguese to its website, which is now in English, French, German, Spanish, and Portuguese.
FairyIn.com is known for the premium quality dresses and most dedicated customer service; the company operates nationally and globally. Its frequently updated blog provides features concerning latest fashion issues, reviews of dresses, shared experiences and sometimes a warm greeting from its staff by way of a promotion.
Moreover, the business has employed several employees who are native Portuguese speakers so that it can offer customized help to more customers from the countries like Portugal and Brazil. In addition to other language channels, the company is now beginning to cater to the many clients who need international language options when shopping.
The CEO of FairyIn.com says, "The multi-lingual platform allows us to serve our customers worldwide better. It is very important to support markets in different parts of the globe to meet the local needs. This is especially true when it comes to an online store that supports one more local language."
About FairyIn.com
Founded in 2008, FairyIn.com is a leading online store that offers wedding dresses, and other special-occasion dresses. The store has a group of designers who create elegant designs for customers all over the world. To find more information about Fairyin wedding dresses, please find them at:
FACEBOOK: http://www.facebook.com/fairyin
TWITTER: http://twitter.com/fairyin