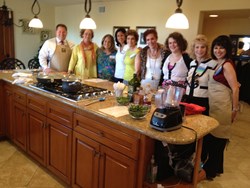 Lajollacooks4u created a special evening of cooking, fun, and competition for our team. It was an incredible opportunity to bond with each other!
San Diego, CA (PRWEB) October 09, 2013
Lajollacooks4u has turned up the heat in the kitchen with a cooking and dining challenge. The team-building event starts with group members separated into two teams. Each team is then tasked to collaborate in creating and preparing their specific list of delicious, gourmet dishes. With two distinct menus simultaneously being prepared, a feast of food is the final result of the team-building experience.
For our latest team-building event, the first drill in the cooking challenge was to complete the hors d'oeuvres of Pizza Rolls. In the Pizza Roll breakdown, Team One worked on the Pepperoni Blitz, while Team Two went wild with the Mushroom Madness. An Apple, Pomegranate Seed and Fennel with Mixed Greens topped the first cooking quarter along with 2010 King Estate Pinot Grigio.
Once the appetizers are complete, the teams will then move on to the next challenge: the race to complete two different entrées. One team completed the Mustard Seed Crusted Beef Tenderloin, while the other prepared the Blackened Salmon with Chimichurri Sauce. Seasonal vegetables, chopped and grilled, with Orzo and Feta are included with the entrées, complimented by 2010 Josh Cabernet Sauvignon.
The ultimate head-to-head challenge brings out the true competition with Mini Dessert Shooters. One team mastered the chocolate-extravaganza known as "The Mudslide" while the other skillfully assembled the delightfully fruity Lemon Curd Shooter.
All touchdown celebrations are then held at the dining table where the team members will reconvene to exchange action-packed stories, share much laughter, and appreciate the fabulous meal they co-produce. The judges' scores are determined by the teams' collaboration, performance, as well as the appearance and taste of the overall meal.
The process of creating a delicious gourmet meal through competition and cooking-challenges not only fosters a sense of unity in teams but also a highly enjoyable experience for everyone involved.
Lajollacooks4u can specially customize team-building events to fit your organization's needs. We provide the ideal setting and activity for executive or department team building, to new hires, sales meetings, and employee rewards.
Lajollacooks4u was founded in 2008 and modeled after a European concept. Chef Jodi welcomes guests into her lovely Italian villa for a very special hands-on culinary adventure. Nestled atop Mt Soledad, La Jolla, CA, with stunning views of the Pacific Ocean, guests are shown how to prepare their culinary delights and then, under the direction of Chef Jodi, begin their own preparation. Lajollacooks4u specializes in team-building activities, Farmer Market & Foodie Tours, special occasions and culinary weekends. Lajollacooks4u has enjoyed record growth since its inception and has been ranked a top attraction in La Jolla on the world's largest travel review site, Trip Advisor. For more information, contact Jodi Abel at jodi(at)lajollacooks4u(dot)com or phone - 858-752-4980.