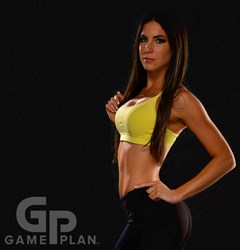 "My body and life are based on commitment and diligence, not chasing the next fleeting fad."
Boston, MA (PRWEB) October 09, 2013
Celebrity fitness trainer Jen Selter is the first-ever spokesperson for Game Plan Nutrition, LLC (GPLH).
Building on a relationship that was formed from Game Plan's start, Jen Selter is stepping into this new role for the nutritional supplement company sold online exclusively through a network of personal trainers. As part of a multi-year endorsement deal, Selter will be involved in Game Plan's national marketing efforts by acting as a direct spokesperson to her 750,000 Instagram followers. She has also worked closely with GP's product formulation experts to develop the weight loss line of products.
Selter is the perfect fit for the company, whose platform allows trainers to devise personalized supplement routines for their clients to take, in return for a commission. "There is so much misinformation and snake oil in the supplement space," Jen Selter says. "Partnering with Game Plan is the perfect message to my followers. My body and life are based on commitment and diligence, not chasing the next fleeting fad."
Jen Selter's fan base on social media has grown at an exponential rate, gaining her over 250,000 new Instagram followers within the last 2 months, and surpassing a total of 730,000 people. She shares her fitness routines, nutritional advice, and motivational words on a daily basis. Instagram has 100 million monthly active users, 40 million photos per day, and 8500 likes per second. Jen's photos of her active and healthy lifestyle are often on the popular page, which are the top 15 most "liked" photos on Instagram at that time.
"I have always been good at picking winners, this one is too obvious," Game Plan CEO Andrew Bachman states. "Having gotten to know Ms. Selter, I am certain she will become the biggest star in the fitness space. Her upside is limitless."
About Game Plan
GPLH develops tools and products focused upon the intersection of three important market trends: proprietary nutritional supplements, sold exclusively through personal trainers and other fitness professionals, using online mobile tools. These tools allow our affiliate fitness professionals to coordinate fitness goals with our nutritional supplements at the key point of contact before, during and after workouts and related consultations. The official Game Plan LLC product launch will be in the fall of 2013.
Forward Looking Statements
This release contains "forward-looking statements" that include information relating to future events and future financial and operating performance. The words "may," "would," "will," "expect," "estimate," "can," "believe," "potential" and similar expressions and variations thereof are intended to identify forward-looking statements. Forward-looking statements should not be read as a guarantee of future performance or results, and will not necessarily be accurate indications of the times at, or by, which that performance or those results will be achieved. Forward-looking statements are based on information available at the time they are made and/or management's good faith belief as of that time with respect to future events, and are subject to risks and uncertainties that could cause actual performance or results to differ materially from those expressed in or suggested by the forward-looking statements. Important factors that could cause these differences include, but are not limited to: fluctuations in demand for Game Plan Nutrition's products, the introduction of new products, the Company's ability to maintain customer and strategic business relationships, the impact of competitive products and pricing, growth in targeted markets, the adequacy of the Company's liquidity and financial strength to support its growth, and other information that may be detailed from time-to-time in Game Plan Nutrition's filings with the United States Securities and Exchange Commission. Examples of such forward looking statements in this release include statements regarding the future performance of the company and proposed product launch dates. For a more detailed description of the risk factors and uncertainties affecting Game Plan Nutrition LLC, please refer to the Company's recent Securities and Exchange Commission filings, which are available at http://www.sec.gov. Game Plan Nutrition, LLC undertakes no obligation to publicly update or revise any forward-looking statements, whether as a result of new information, future events or otherwise.