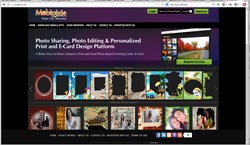 Our aim is to make MobiPixie's interfaces super easy to use for every Grandma and Grandpa in the world.
New Brunshwick, NJ (PRWEB) October 09, 2013
MobiPixie (http://www.mobipixie.com) team today announced a new update to their web application interface. The newly launched web interface features a new layout that provides a cleaner and more interactive design. It is now easier to manage mobile uploaded photos, share them with other mobile or web users and move photos between public and private galleries. It is also more intuitive to use advance features such as creating new private or public groups, adding new photo frames to photos or designing custom greeting cards with the online design tool. The new interface makes it easy for users to utilize Image edit or enhancement functions from a PC or a Tablet.
MobiPixie.com is a cloud based photo sharing and social networking platform where a user can upload a photo from their mobile phones or from their digital cameras, enhance and edit them and optionally convert them into personalized greeting cards. These cards can be sent as an E-card, Postcard or as a printed Greeting Card. MobiPixie prints and mails them within 48 hours. MobiPixie plans to add ability to add gift cards and gifts to the cards or photos to MobiPixie e-cards or p-cards within a few weeks.
"Our previous design served us well," said MobiPixie's Head of Technology and Product Development, Dr. Brijesh Kumar in discussing the new design, "but our user base has grown rapidly in the past few months. With thousands of users relying on MobiPixie to share their photos or design their cards, we want to make sure that it's easy and intuitive for our users to manage all the functionality that they expect in an industry leading product like MobiPixie. Our aim is to make our interfaces super easy to use for every Grandma and Grandpa in the world."
MobiPixie mobile applications have been downloaded by thousands of users who are using it for all occasions. These free mobile apps are available on iPhone, Android and Blackberry. Users can also access MobiPixie via web interface.
Mobipixie applications are available in all international markets and will work in all countries of the world. These apps can be downloaded from http://www.mobipixie.com.
About MobiPixie
MobiPixie (http://www.mobipixie.com) is a privately funded company with a primary interest in all things related to Mobile Media. It is guided by an experienced management team based in NJ. MobiPixie has been developed by a team of dedicated mobile applications designers, developers, and architects, along with operational staff scattered at multiple locations in the USA and India.