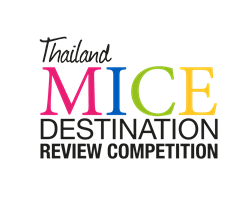 (PRWEB) October 10, 2013
Thailand Convention and Exhibition Bureau (TCEB) invited worldwide MICE professionals and MICE bloggers to join the first ever competition Thailand MICE Destination Review Competition.
The 5 selected meeting planners or bloggers will get a chance to join a one-week educational trip. They will get to discover the best 5 MICE cities in Thailand: Bangkok, Phuket, Chiang Mai, Khon Kaen, and Pattaya with regard to what they have to offer for their dream business event. Finalists will compete to win additional cash of 5,000 USD for the most inspiring blog they have submitted.
Mrs. Sarita Chintakanond, Director of Information Technology department of Thailand Convention and Exhibition Bureau (TCEB), stated that, "This campaign aims to showcase the capability and readiness of 5 MICE cities in Thailand. Furthermore, the campaign will enhance the reputation of Thailand through online media in order to inspire and ignite worldwide MICE professionals to help them plan their next business event in Thailand."
Those interested should visit http://www.businesseventsthailand.com/competition for complete details on how to enter.
Media Inquiry: businesseventsthailand(at)tceb(dot)or(dot)th