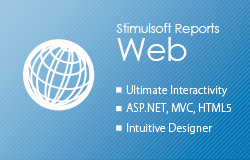 The main goal of our company is to give our users the freedom of choice, provide them a versatile tool with which they could turn their work into a creative flight, not forgetting the technical challenges that stand before it.
Smolensk, Russia (PRWEB) October 12, 2013
"We have combined our reporting components for HTML5 and ASP.NET MVC with our reporting tool for ASP.NET, Stimulsoft Reports.Web - says the business manager of Stimulsoft, Andrew Savin. Earlier they were separate software products, which over time got similar functionality and the spheres of using them became intersected. Now we offer a product that actually has three times much powerful and all the features that the ASP.NET platform provides is now available in a single product."
In this context, interesting things are technical aspects of how does Stimulsoft Reports.Web work. This product can be used for designing and rendering reports for web applications. Work with reports is organized using the client-server technology. On the server side can be used components for ASP.NET as well as components for ASP.NET MVC. On the client side there are following options: viewing and editing reports using only HTML5 components; viewing and editing reports using components, created using Flash technology; viewing and editing reports on mobile devices using HTML5; creating reports on the windows desktop using the standalone report designer. It is also possible to use different technologies and components in various combinations. It should be noted that all components of the reporting tool are fully compatible in file formats for different platforms and technologies.
Company Profile
Stimulsoft is a leading supplier of components for creating reports of the most popular development platforms. Stimulsoft's customers include many large and small business organizations, government, educational, and non-profit institutions in more than 130 countries worldwide.