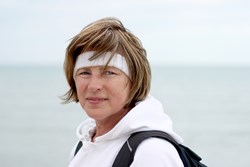 ...results clearly support an association between physical activity and postmenopausal breast cancer, with more vigorous activity having a stronger effect.
London (PRWEB UK) 9 October 2013
Researchers from the American Cancer Society looked at breast cancer status and exercise levels in 73,615 postmenopausal women taking part in the CPS-II Nutritional Cohort, a study begun by the American Cancer Society in 1992. During the 17-year study, 4,760 of the women were diagnosed with breast cancer. Physical activity, they suggest, has a beneficial effect on hormone levels, weight control, glucose metabolism, insulin sensitivity and inflammation – all factors implicated in the development of postmenopausal breast cancer. 1
Among the women who reported walking as their only activity, those who walked at least 7 hours per week had a 14% lower risk of breast cancer compared to those who walked 3 or fewer hours per week. The women walked at a "moderate" pace -- about 3 miles per hour. The most active women -- those who walked and did more vigorous exercise -- had a 25% lower risk of breast cancer compared to the least active. This finding is consistent with many other studies that show regular exercise can help women lower their risk of breast cancer. "Our results clearly support an association between physical activity and postmenopausal breast cancer, with more vigorous activity having a stronger effect," said Alpa Patel, PhD, leader of the study and American Cancer Society strategic director of Cancer Prevention Study. 2
Overall though, this type of study cannot prove that exercise directly helps to prevent breast cancer. It is possible that exercise may help to reduce risk, in addition to other healthy lifestyle factors. For example smoking, alcohol and a high-fat, low fruit and vegetable diet have all been associated with overall health which contributes to an individual's well-being.
Nearly everyone could step up their walking, says the report, with only 4 per cent of people not able to walk or needing help to do so. Only 6 per cent of men and four per cent of women manage 150 minutes of physical activity a week in England. Dr William Bird, founder of Walking for Health and Intelligent Health, which promotes exercise schemes, said lack of physical activity is a more significant source of ill-health and premature death than obesity. He said: "You can be fat and fit, but you can't be healthy if you're inactive and thin. Britain has one of the most inactive populations in the world." 3
Researchers pooled results from 13 studies on the effects of physical activity on blood pressure. The studies involved 136,846 people in the United States, Europe or East Asia who initially had healthy blood pressure. More than 15,600 later developed high blood pressure during follow-up periods ranging from two to 45 years. People who exercised more than four hours per week in their leisure time had a 19 percent lower risk of high blood pressure than those who exercised less than one hour per week. People who had one to three hours per week of leisure exercise had an 11 percent lower risk than those with under an hour of activity. 4
The findings suggest that the more recreational physical activity you get, the more you are protected from developing high blood pressure as walking is a form of exercise easily accessible, free and good for the heart and for weight control. The finding that it may also protect against breast cancer is an additional benefit.
ChemistDirect's Superintendent Pharmacist Omar El-Gohary adds:"This study once again highlights the benefits of leading a healthy active lifestyle. Even simple exercise such as walking should be encouraged. As well as statistically reducing the risk of breast cancer in menopausal women, it is a form of exercise most women will have access to and has many other benefits such as improved cardiovascular health".
References
1. http://www.sciencedaily.com/releases/2013/10/131004090815.htm
2. http://cebp.aacrjournals.org/content/22/10/1906.abstract
3. http://www.dailymail.co.uk/health/article-2447972/Walking-save-37-000-lives-year-20-minutes-exercise-day-ward-disease.html
4. http://hyper.ahajournals.org/content/early/2013/09/30/HYPERTENSIONAHA.113.01965