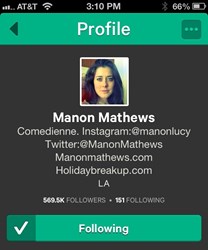 "I get so many people commenting on my vines, asking me 'when I can see you in a movie?'. Well now, with their support, they're going to!" Says Manon Mathews
Hollywood, CA (PRWEB) October 10, 2013
Today is the launch of the campaign for the feature film starring Internet Sensation Manon Mathews. Screenwriter Temple Mathews is set to direct his talented daughter comedienne Manon Mathews, aka The Vine Girl in the comedy, Holiday Breakup via a crowd funding campaign on IndieGogo.com.
Manon Mathews has shown her ability to make audiences laugh live in the comedy clubs and on Twitter's Vine app in 6 second postings. Manon has gathered 567,000 followers to date on Vine. "I get so many people commenting on my Vines, asking me 'when I can see you in a movie?'. Well now, with their support, they're going to!" says Manon. Fans get exclusive perks to be part of the development team and help Manon's feature film breakout role in Holiday Breakup come to life.
"Followers have flocked to her Kristen Stewart imitations and quick 6 second comedy videos. Manon gains thousands of new followers each and every day since she started on Vine four months ago" says Director and Dad, Temple Mathews.
"This film combines the cutting edge talents of an internet star, Manon Mathews with the established screenwriting talents of Temple Mathews. They happen to be father and daughter who get each other's talents. It's so exciting to invite their fans to be part of the process of creating a great film and allowing Manon to expand on her 6 second Vine stardom to the realm of comedy feature films. This has never been done before!" says producer Joel Baral.
Also part of the film making team are Music Supervisor Bob Cutarella, and Director of Photography Ana Amortegui.
Holiday Breakup is a story about how love can sneak up on you when you least expect it and how, sometimes, by going through the motions, by realizing that love is a verb, you can arrive at the one thing we're all searching for, the truth.
Faced with the hell of spending the big three holidays, Thanksgiving, Christmas and New Year's not only alone, but at the center of one pity party after another, Chloe (Manon Mathews) and her boyfriend decide not to tell anyone they've broken up. It's a simple plan; even though what they really want to do is slap each other silly, all they have to do is pretend to be in love to make it through the holidays unscathed.
As they smile and fake their way through one holiday party after another, their "pretend" romance intensifies and, ironically, they find that everyone else's "perfect" relationships aren't so perfect after all.
Writer/Director Temple Mathews is a graduate of the University of Washington and a producer at the American Film Institute. Temple Mathews has written dozens of half-hour animation TV episodes and several animated and live action features and direct-to-DVD and video films. Mr. Mathews has sold scripts and/or worked for hire at every major studio in Hollywood. His credits include the Walt Disney animated feature films "Return to Neverland" and "The Little Mermaid II," and the MGM feature film "Picture This!" starring Ashley Tisdale.
Manon's Mathews's Vine Profile is "Manon Mathews."
Indiegogo Campaign - http://www.indiegogo.com/projects/holiday-breakup
PR Contact: AnnMarie Baranik 818.749.6721
http://www.holidaybreakup.com
###