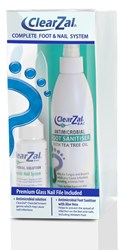 ..thousands around the UK in the risk of developing a foot infection this winter.
(PRWEB UK) 9 October 2013
ClearZal announces a new product which combats the germs which may cause foot and nail infections. The well established foot care brand has introduced a 'complete solution' to an embarrassing foot problem suffered by "over a million in the UK" (NHS Choices).
Athletes foot and nail infections affect up to 22% of the UK population and are a problem many will face during the upcoming winter season. The dark, moist and warm environment from wearing thick socks and closed boots will encourage the spread of germs and bacteria causing thousands around the UK in the risk of developing a foot infection this winter.
The brand owners of ClearZal have developed ClearZal® Complete as the next evolutionary step in the foot care industry and provide all that their customers require to look and feel good again.
In correlation to the new launch, advertising campaigns featuring the new brand character (the ClearZal yeti) will be broadcasted to educate people about the physical and emotional effects of having a foot and nail infection.
ClearZal Complete was developed due to the success of ClearZal BAC, the only anti-microbial solution to kill 99.9% of fungus, bacteria and viruses. The ongoing growth of ClearZal BAC in addition to consumer focus groups has supported the expansion of the brand now introducing a Complete Solution to foot care.
The Complete Foot and Nail System consists of three products, an antimicrobial solution and a foot sanitiser, with a complimentary premium nail file to complete the pack. Whilst the solution is designed to kill 99.9% of ALL fungus, bacteria and viruses which may cause nail infections, the ClearZal Foot Sanitiser will prevent the spread of infection to the rest of the feet and nails which could potentially cause athletes foot.
Available in most Boots stores from mid-October 2013; RRP £29.99.