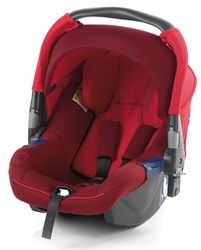 This Koos car seat is the lightest on the market and comes with exceptional safety features
Newtownabbey, Antrim (PRWEB UK) 10 October 2013
Child safety experts at Jané have made a significant breakthrough in car seat innovation with the development of The Koos. This quality car seat is the lightest on the market and comes with exceptional safety features.
Parents can wave goodbye to the stressful process of getting baby safely strapped into the car as the super light-weight Koos, that weighs just 2.9kg, can be simply installed in a vehicle using the ultra-safe three-point seat belt, or the especially developed Koos Isofix platform.
An excellent Koos safety feature is its polypropylene injected body that is highly resistant to impact and offers all-round protection. And because this car seat is lighter than a normal car seat, there is less damage if you do happen to have an accident, making the Koos a safe option.
For extra peace of mind there's a 'correct installation' test button on the side of the car seat that clicks to green to let the user know that the seat is installed properly. And on top of that there's also a clever smartphone QR instruction video on the side of the Koos.
This Group 0+ car seat is suitable for babies from birth to 18 months which means baby can travel in the safer rear-facing position for longer.
The Koos Isofix platform can be left in the vehicle making installation and removal of the seat quicker and the journey safer.
Suitable for use on any one of the Jané pushchair range using the unique 'Pro-Fix' system, the Koos can be transformed into travel system in seconds. The Koos offers an adjustable 3 point harness, storage compartment, removable and washable upholstery, third belt guide and car seat belt lock.