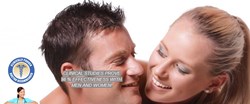 Aventura, FL (PRWEB) October 11, 2013
Hair Booster is proud to announce the official launch of their website. Through their launch, Hair Booster aims to educate the general public on one of the fastest growing phenomenons to ever hit the hair loss market. Developed in Germany, the products listed on sale through Hair Booster have been clinically proven to work for both men and women with up to 98% efficiency. Thus far, all of the products listed on Hair Booster have been government approved, and have shown outstanding results when it comes to permanently stopping hair loss and helping patients to begin growing back their hair. While the products are priced above many of the high street products, the phrase "Quality comes with a price" is correct.
Currently, Hair Booster stock and sell several hair loss targeted products, including Energizing serum and Shampoo scalp cleansing concentrate. All of the products listed for sale on Hair Booster have been clinically proven to help permanently restore hair growth. They manage to achieve this through the uniquely combined ingredients which are found within, and best of all, they are primarily used as shampoos which makes the application process extremely simple. Users simply apply the products as with any other regular Shampoo.
With a 98% effectiveness, as proven through clinical studies, the products listed on Hair Booster are some of the most advanced hair loss treatment products currently available on the market. To learn more about Hair Booster, and to learn more about hair loss regrowth, head over to their official website found at http://www.shop-hairbooster.com/.