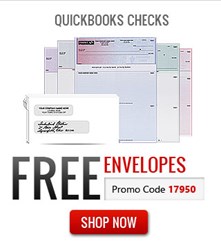 While Print EZ does detail out the placement in the product description, this extra push will help customers gain confidence
Monroe, NY (PRWEB) October 15, 2013
In keeping with the focus on computer checks, online retailer Print EZ has announced another offer on the computer check range. All first time customers get free envelopes with a checks order. According to sources, this move has been made to add computer checks to the other products that customers purchase.
States the Marketing Director of Print EZ, "Not only does this offer help the company acquire new customers, it also helps in ensuring current buyers of other categories, explore checks too. The offer is valid for all first time purchases. It also applies to a new account that an existing customer may order checks for."
The offer has been announced for all computer checks including checks on top, check in the middle, check at the bottom, 3 checks per page, blank checks, QuickBooks checks Peachtree checks and Microsoft Money checks too.
Inside sources state that Print EZ intends to gain a significant share of the computer checks online presence. The company already offers business checks, computer checks and personal checks along with check supplies like checks binders, tags, fraud stationery, bank endorsement stamps, cash deposit bags and more. In fact, in the past there have been offers on other categories like business forms, envelopes and labels too. The series of marketing events that have unfolded show the zealous nature with which the company is making inroads into the online business printing arena.
The envelopes offer is available at three different levels. Customers that purchase 250 computer checks or more receive 100 envelopes. Those who purchase 500 checks receive 200 envelopes and stand to save $39.99. For bulk orders like 1000 computer checks, 400 envelopes are given away free, a total saving of almost $50. Print EZ makes sure that the envelopes are appropriate and correct in size so as to suit the checks that are ordered. The double windows appear exactly where the sender and receiver addresses appear.
"The offer also helps customers get comfortable with ordering double window envelopes over the Internet. In the past, customers have shown some resistance to ordering double window envelopes due to the ambiguity of the placement of the windows. While Print EZ does detail out the placement in the product description, this extra push will help customers gain confidence", says Morris Rose, CEO Print EZ.
Also available with every purchase on computer checks, just like the other products is a 3 percent money back option. This is possible if the customer enrolls into the EZ Rewards loyalty program. The loyalty program adds to the many discounts and offers available to the new customer, making print EZ viable and attractive retailer to purchase from. Print EZ has also shown great professionalism in running the rewards program too. Customers are reminded of points that are likely to expire soon so that new orders can be placed just in time.
In addition to that, all check orders are processed and dispatched within 24 hours of the order being placed. While Print EZ has managed to do a great job of maintaining customer service, product quality and range, it needs to be seen how much market share the company can garner with these efforts.
To get more information about the great deals and discounts that PrintEZ.com offers on computer checks, take a look at PrintEZ.com or call the company at 1-888-246-0635. Get the latest news from and get regular updates of new offers and deals here.
http://www.printez.com/quickbooks-checks.html
Print EZ
4 N Main St.
Monroe, NY 10950
(845) 782-5832