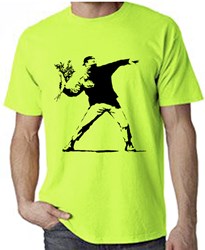 As one satisfied customer put it: "...great for wearing at festivals! ...made me easier to find when I got lost!" (Russell, Middlesex)
(PRWEB UK) 10 October 2013
Demand for our Banksy t shirts & clothing is on the up this season. In response, we've made some changes to this ever-popular department. We've introduced a whole raft of new Banksy designs to our buzzing hive of images to satisfy a blossoming demand. Don't worry, we'll be keeping the current range of designs you love too. Check us out at http://www.tribal-tshirts.com to view our whole range.
Be sure that we here at Tribal will be keeping beady eyes on any future Banksy developments; ever-ready to grab new images to plaster on our t shirts. We're sure Banksy will remain the ever-active art-guerrilla he's famed for being.
Banksy prods our social consciences, reminding us of the horrors & injustices of war, capitalism & human rights abuses in a comical fashion we've come to love & expect. His individual style of stencilled-graffiti is now instantly recognisable globally. Consequently, we've added many new images which are iconic, in-yer-face Banksy. These include:

Flower Throwing Protester
Bomb Hugging Girl
Monkey Queen
Shopping Laden Jesus]
Kissing Coppers
All these images & many more are also available in our dazzling new Neon colour range of which our Banksy Panda t-shirt. This includes our bags, sweatshirts, long-sleeve shirts & hoodies as well as our t shirts. The neon range is in various colours & has to be seen to believed.
As one satisfied customer put it: "...great for wearing at festivals! ...made me easier to find when I got lost!" (Russell, Middlesex)
So whether you decide on a t shirt, sweatshirt or other clothing item, be warned! Neon positively radiates. Fantastic for clubbing or being glaringly obvious! All our clothing is available in various sizes & colours made to your specifications. Remember, we ship within a few hours of purchase. Service with us is fast, no fuss. Returns guaranteed.
Thanks!