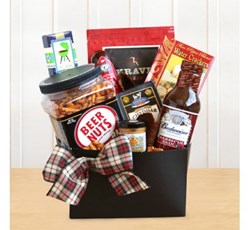 Print EZ has made it easier for customers to choose gifts and ship these off to multiple locations.
Monroe, NY (PRWEB) October 29, 2013
Food gifts retailer print EZ has done it again. The insightful marketing team has yet again understood a key customer need and attempted to fill it by offering bulk order booking for the holiday season. The company now allows customers to ship food gifts to multiple locations so that food baskets can be sent in time to employees, colleagues, bosses and friends and relatives too.
As CEO Morris Rose points out, "As the holiday season approaches thoughts of having the order food gifts or food baskets for employees, friends, relatives and colleagues can be overwhelming. Holiday shopping can be stressful especially if the office and industry does not allow for time off for planning such activity. Even though choosing food gifts for the loved ones should be enjoyable, it becomes a chore if one has to write multiple greeting cards and create gift baskets by oneself. This is why Print EZ has made it easier for customers to choose gifts and ship these off to multiple locations."
Customers need to choose the food baskets and then fill in details of the address that these baskets need to be shipped to. Those who have used this option state that it is easy to complete in one sitting and all one needs to do is to sit with the address book and copy the relevant addresses in the right place. An innovative and creative customer also mentioned how the phone address book could be linked to the computer to avoid typing in details.
According to Print EZ employees, this is not an option created only for corporate gifting. "Corporate gifting has always been a forte of print EZ. This time around, it is expected that food gifts shall be chosen for friends and relatives too."
Based on this philosophy, print EZ has created options for all upcoming holidays. The grandest of the food gifts are reserved for the thanksgiving category where customers shall find 'Holiday Gourmet Grandeur', 'Harvest Bounty Wine & Gourmet' and 'Thanksgiving Bounty Better' among others. For the Halloween lovers there is the 'Scaredy Cat Treats', 'Ghoulish For Ghirardelli' and 'Halloween Extravaganza'. Some of the products added in the Christmas collection to kick off the Christmas spirit and cheer include the 'Holiday "Ugly Sweater" Snack Tower', 'Dashing Dazzler Sleigh', 'Snowflake Sensations Sleigh' and 'Sleighful Of Sweets'. It is understood that more options shall be launched as the holiday season comes closer.
As part of the bulk ordering option, customers can also choose to get printed ribbons and tags. It makes for a great option especially for corporate gifting for the holiday season. The company feels that printed ribbons bring a certain amount of professionalism and panache to the gift and an association with quality can be built by their customers. To add further incentive, there is also an additional 10 percent discount for all orders placed before December 8, 2013.
Print EZ expects this holiday season to be a landmark phase for the food gift category. While there does not seem any lack of efforts, time will confirm customer acceptance of these efforts.
Get more information about how Print EZ offers and new launches on Food Gifts Baskets at http://www.printez.com/food-gifts.html or call the company at 1-888-246-0635.
To read more about shop-by-price-food-gifts click here http://www.printez.com/shop-by-price-food-gifts.html.
Print EZ
4 N Main St.
Monroe, NY 10950
(845) 782-5832