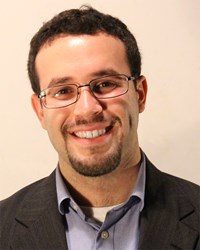 New York, NY (PRWEB) October 09, 2013
CFO Publishing, the leading publisher of corporate finance news, announced today that Content Strategist Aram Zucker-Scharff has been selected as one of the 2013 recipients of FOLIO: 100. Each year, FOLIO: recognizes the most influential and impactful media professionals of the year. Aram was honored under Folio's 15 Under 30 category.
Before working with CFO, Aram built an understanding of new media, marketing and advertising while working with a variety of editorial publications and university programs. Aram's approach is to find where technology and narrative meet, then apply that knowledge to enhance organizations' online strategy and content. Aram works with all CFO Publishing divisions to improve their overall web presence by leveraging new technology, user experience data and narrative design. He graduated from George Mason University with degrees in English and Information Technology. Aram has contributed to United Press International and a number of other publications.
"Not only does Aram know the basic elements of how to tell a brand's story," said Alan Glass, Chairman and CEO of CFO Publishing. "He understands the code and hardware behind the digital systems we use every day and has become a valuable asset to CFO."
"CFO's nature as a multi-platform organization has given me the opportunity to put all aspects of my experience into practice," said Aram. " We've done a lot of work already, moving our journalists to Word Press, launching new tools and putting advanced techniques into practice. It's exciting to be recognized this early in the process when we have so many more great things to come."
The 2013 FOLIO: 100 Awards Ceremony takes place October 30, 2013 during the MediaNext Conference in New York. For more information and the full list of the FOLIO: 100 honorees, please visit: http://www.medianextshow.com/folio100/#100honorees
About the Folio: 100:
The FOLIO: 100 salutes the most influential and impactful media professionals of the year. This must-attend event will honor the c-suite visionaries, director-level doers, under the radar change agents and 15 under 30 who are influencing the media industry. Honorees will be profiled in the October issue of FOLIO: magazine and on Foliomag.com.
About CFO Publishing:
CFO Publishing LLC, a portfolio company of Seguin Partners, is the leading business-to-business media brand focused on the information needs of senior finance executives. Delivering content through multiple channels including online, digital, mobile, and print, the business consists of CFO magazine, CFO.com, CFO Research Services, CFO Learning and CFO Conferences. CFO Publishing's award-winning editorial content and loyal, influential audience make it a valued resource for its readers as well as an effective marketing partner for a wide range of companies. CFO Publishing has long-standing relationships with nearly a million finance executives. For more information, please visit http://www.cfo.com.