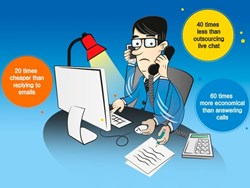 This solution from Viclone means that any company, regardless of size, can enjoy high-quality automated customer support from $49 a month.
Barcelona, Spain (PRWEB) October 11, 2013
Viclone Corp, the Spanish company pioneering in the development of intelligent virtual agents, has announced the launch of the new version of their intelligent chat, viCloning. Since its launch just over 3 months ago, it has clocked up 350 clients. It is an affordable and efficient solution that optimizes customer service. It is easy to use and install, it is in the cloud and doesn't require IT skills to set up and maintain.
What makes viCloning version 3 stand out (among other things) is that it detects user information in real time: their operating system, language, location, last conversations, time spent on the website, and what they have looked at.
One of the most important features of this tool is viCloning's self-learning abilities. It incorporates a live chat system that learns from real conversations between operators and customers, so it can then use this information to automatically respond if it is asked similar questions at a later point. If the system detects that the question has been asked previously, it provides the option to directly send the answer that was given to this question previously. What is happening, is that the questions and answers conducted over the viCloning live chat system are recorded and saved in the knowledge base. viCloning then uses this data to answer questions automatically thanks to its sophisticated artificial intelligence algorithm.
A simple system for the import and export of FAQs is also incorporated into viCloning, allowing it to be set up in a matter of clicks. If you haven't managed to include all the content in the viCloning, the new version has a feature that intelligently searches websites, allowing you to index the entire website in natural language and consequently find content that you may not have added.
viCloning's version 3 reduces the time that clients spend browsing websites because it offers information instantaneously without having to search. In addition to the new features, a cross-selling tool has been included which recommends other products, resulting in higher sales. From the dashboard, products can easily be linked to questions to promote offers, launches and improvements.
viCloning can be fully customized: its design can be completely adapted to fit in with your website. It has been created to work on all latest-generation smartphones as well as tablets (iPad / iPhone / Android), and is compatible with all browsers. The version 3 unifies all interactions with clients in one single place, and can also automatically send complete live chat transcripts to Zendesk, Desk.com, Freshdesk, Salesforce, UserVoice and Highrise. viCloning works perfectly by itself, but even more so if you use it in conjunction with other popular applications.
This solution from Viclone means that any company, regardless of size, can enjoy high-quality automated customer support from $49 a month. viCloning versión 3 is available now from http://www.vicloning.net.
On the 16th of October, Viclone is putting on a free webinar. It is open to entrepreneurs form all over the world, so they can find out about the new version of viCloning, the intelligent chat that is increasingly gaining relevance in the market.
For more information, and to sign up for the free webinar:
http://www.vicloning.net/webinar.html