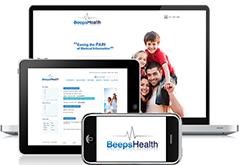 (PRWEB) October 11, 2013
Among a multitude of medical and health applications that have crowded the online world, BeepsHealth has won over millions of people across the world. Its amazing functionality and features make it a handy application and it's fairly easy to use, so anyone can use it from the comfort of their homes, offices, work places, public areas, in short, anywhere and at any time.
BeepsHealth allows users to upload all their important medical data, test reports, family health history, in other words all the important health history that you might need, eliminating the need to save, record and transfer heavy medical files. This application also allows users to find doctors of their choice and make appointments with them whenever they want. In addition to this, users can find contact details of a particular doctor if they wish to make an appointment themselves or meet them in person.
This multiplatform application also allows users to remind them when to take their medicine with an alarm sounding like a beep, and can help them keep track of all the medicine they are taking. In addition to this, BeepsHealth may also be used to keep track of calorie and food intake and is a particularly useful feature for users who have special dietary needs. This application has earned great reviews and is our medical app of the week.