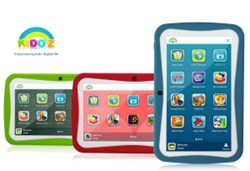 KIDO'Z is gearing up to provide the platform of choice for families.
Tel Aviv, Israel (PRWEB) October 11, 2013
KIDO'Z, developers of the popular kids' OS for mobile devices and PCs, announced today the closing of a financial round of 1.2M. Leading this round is Lool Ventures, which is backed by media giants Burda and Bertelsmann. Participating with them are angel investors including Dov Moran, Aryeh Mergi, and others.
Since the launch of its mobile platform nearly a year ago, the KIDO'Z app has been installed on over 1.5 million devices, both as a full operating system on kids' devices as well as a "kid mode" on standard devices. KIDO'Z has shown extraordinary levels of engagement and usage, with kids spending hundreds of minutes a month using KIDO'Z as their launcher for apps, games and videos, interacting with content that is guaranteed fun, safe, entertaining and appropriate.
In the past year, KIDO'Z has partnered with over 25 tablet manufacturers, enabling them to provide a family-friendly line of products powered with the KIDO'Z platform and parental controls. Company revenues have grown by a staggering 700% as a result.
The money raised from this financial round will be used to accelerate content partnerships and development for the new premium services to be launched later this year, as well as to expand the company's team both on the product and business sides.
"With kids' tablets becoming the hottest trend in consumer electronics and the number one gift requested by kids, KIDO'Z is gearing up to provide the platform of choice for families," says KIDO'Z founder and CEO, Gai Havkin.
"We are living at a time when smart devices have become our kids' main toys. This has affected their entire playing, learning and entertainments habits." Havkin continues, "KIDO'Z is rapidly becoming the STANDARD for this new reality, both for kids and for parents. Lool Ventures not only brings us the resources but also validates our vision that KIDO'Z should be on each and every device."
About KIDO'Z:
Founded in 2009, KIDO'Z is empowering the digital life of millions of kids by turning Smartphones, Tablets & PCs into safe and entertaining environments for kids.
KIDO'Z comes pre-loaded with the latest kids' apps, videos and online content delivered directly to children, making KIDO'Z state-of-the-art platform the one-stop solution for families and kids.
About Lool:
Lool Ventures was created to help entrepreneurs grow companies @ Internet speed.