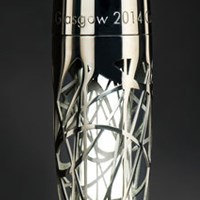 (PRWEB UK) 10 October 2013
Glasgow based 4c Design has created an outstanding design for the Queen's Commonwealth Baton relay which takes inspiration from Scottish materials, local designers and craftsmen, Glasgow's rich industrial heritage and additive manufacturing technology.
There are four elements to the Baton – the handle, lattice frame, granite gemstone and, at the heart of the Baton, a message from the Queen.
The handle is made from Scottish elm and has been constructed using boat-building techniques by craftsmen at GalGael, a Glasgow based social enterprise.
3T RPD made the titanium lattice frame using metal additive manufacturing technology. Designed by William Mitchell, the body of the Baton has a striking organic form inspired by Charles Rennie Mackintosh, and comprises internal and external twisting metal frames. The surface of the exterior skin has been polished to a high finish, yet the internal skin is unpolished and is as it came out of the 3T's metal AM machines.
The torch has a granite gemstone at the top of the Baton which will be gifted to each nation and territory as the Baton makes its 190,000km 288 day tour of the Commonwealth.
Finally, at the visual core of the Baton is the Queen's message which is illuminated from within and will remain unread until the Games Opening Ceremony.
The Baton will return to Glasgow the opening ceremony on 23 July 2014.
3T RPD Ltd is a dedicated Additive Manufacturing (AM) company. With a capacity of six plastic AM machines and five metal AM machines, 3T leads the UK industry offering a wide choice of materials to meet the needs of a broad range of industry sectors. Established in 1999 in Newbury, Berkshire on the former Greenham Common Airbase, 3T moved to a purpose built facility in 2007 to allow for continued expansion. The company employs 45 people and exports a significant proportion of its production. In April 2012, 3T gained their third quality standard: AS 9100 Rev C for the production of metal parts using Additive Manufacturing. They already hold ISO 9001:2008 and ISO 13485:2003 Medical Devices and were the first AM Company in the UK to hold all three quality standards.