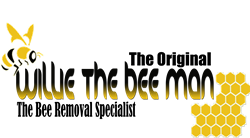 "Our Mission is to help more people in South Florida BEE aware and BEE safe." – Willie the Bee Man
Miami, FL (PRWEB) October 09, 2013
Africanized killer bees ARE in Florida. There is no doubt about it. In March of 2013 two park rangers in Tampa were hospitalized after being swarmed by over 100,000 of these pests; numerous dogs, several horses, and three people have been killed by Africanized bees in Florida alone. It's not yet an epidemic, but entomologists statewide have documented evidence that the numbers of these hybrid bees are definitely on the rise. In response to this, fully-trained and fully-prepared South Florida Africanized bee expert William Sklaroff, Willie the Bee Man, is enhancing and expanding his decade-old bee removal business.
Millions of Africanized bees have reached South Florida, and, though the nesting season has pretty much passed, bees now have their homes, that is their hives, and are in full protection mode. All bees, including killer bees, are usually not as dangerous when swarming as when they are defending their colonies. (Swarming bees look VERY frightening, even though we know that they are merely looking for a new home.) They defend and attack outside a colony because inside their hives they are gestating larvae, their offspring. Flying towards and stinging the enemy ensures the survival of the next generation; The Queen Bee lays more than 1,000 eggs per day. Willie the Bee Man has had specific training and received certification in eradicating Africanized bees, one from Florida and one from California, and for more than a decade, he has been aiding residents and merchants who have had bee infestations on their properties.
"By expanding our presence on the internet, we will be reach more people in South Florida who are experiencing problems with bees and wasps of all varieties. Peoples safety is our primary concern," said Willie the Bee Man. The family owned and operated company has five vehicles specifically outfitted with equipment and protective clothing geared to combat the flying, stinging pests, including bees, wasps, hornets, and yellow jackets.
All bees can be problematic when they build colonies where people live, work, and play. The Africanized bee problem has reached proportions where the Broward County Sherriff's Office (BSO) has issued warnings and devoted a page on their website (http://www.sheriff.org/safety/killerbees.cfm) with instructions on what to do in case of an attack.
For more information visit http://www.williethebeeman.com or visit the following social media sites.