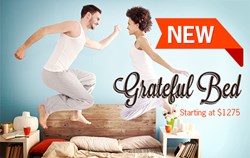 Montreal, Quebec (PRWEB) October 11, 2013
Natural mattress maker, Essentia, has unveiled two new mattress models: "Grateful Bed" and "Tatami". These models were developed in response to a high demand for more affordable organic mattresses. They are currently available online and will be in stores as of October 11th, 2013.
The "Grateful Bed" starts at $1,275.00. It is a firm bed which consists of four inches of compressed 100% organic cotton, three inches of natural latex, and one inch of Essentia's patented natural memory foam. The "Tatami", which starts at $1,689.00, is slightly less firm. It consists of seven inches of natural latex topped with one inch of natural memory foam.
The new mattresses were developed and engineered at Essentia's Montreal production facility. "We use the same natural materials and testing for all our models", commented Jack Dell'Accio, CEO and founder of Essentia. "The 'Tatami' and 'Grafeful Bed' feel great, I'm confident our customers will love them".
Essentia also recently released the "Body Pillow". The newest addition to the brand's collection of pillows, a luxurious U-shaped, full-sized body pillow is made of shredded memory foam and natural latex. The retail price is $489.00.
About Essentia: Essentia, maker of the World's Only Natural Memory Foam, set out to ensure that everyone can benefit from healthy sleep with a full line of increasingly affordable natural and organic mattresses, pillows and sleep products. Essentia produces products with a heavy focus on outstanding comfort and only the highest quality natural ingredients. Garnering the attention of The Dr. Oz Show and Anderson Cooper, experience what all the hype is about at one of Essentia's 11 store locations.