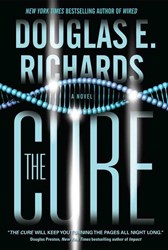 Recalls The Best of Michael Crichton
(PRWEB) October 09, 2013
Douglas E. Richards is a genetic engineer who served as Director of Biotechnology Licensing at Bristol-Myers Squibb and then as a biotechnology executive for many years. After leaving the industry to pursue his dream of writing, and hitting both the New York Times and USA Today bestseller lists with his novel, WIRED, Richards has often been compared to the late Michael Crichton for his ability to craft gripping thrillers driven by meticulously researched science.
Richards's latest novel, The Cure, provides an eye-opening look at the science of psychopathy within an explosive, roller-coaster-ride of a novel that will keep both thriller fans, and science fiction fans, reading deep into the night. "Richards is a tremendous new talent," said Stephen Coonts, author of seventeen New York Times bestselling thrillers. "The Cure is an extraordinarily good novel that will keep you riveted . . . and thinking."
Psychopaths seem to be at epidemic levels, and new research indicates their brains differ from those of non-psychopaths, possibly accounting for their absolute selfishness, ruthlessness, and lack of conscience. And while most aren't the Hannibal Lecter type, even the seemingly benign psychopaths among us inevitably leave a trail of shattered lives in their wakes.
In The Cure, Erin Palmer suffers through a devastating encounter with a psychopath as a child. Now a grad student and scientist, she's devoting her life to studying these monsters. When her research catches the attention of Hugh Raborn, a brilliant neuroscientist who claims to have isolated the genes responsible for psychopathic behavior, Erin realizes it may be possible to reverse this condition, restoring souls to psychopaths. But to do so, she'll not only have to operate outside of the law, but violate her most cherished ethical principles.
When Erin learns Raborn harbors dark secrets, all hell breaks loose. Is he working for the good of society? Or is he intent on bringing humanity to its knees?
Douglas E. Richards has been widely praised for his ability to weave action, suspense, and science into riveting novels that brilliantly straddle the thriller and science fiction genres. With THE CURE, Richards has done it again, penning a novel that, according to #1 New York Times bestselling author, Douglas Preston, "Will keep you turning the pages all night long."
The Cure, a hardcover and eBook published by Macmillan (Forge), is available wherever books are sold.
To request a review copy, for more information, or to schedule an interview with the author, please contact Karen Lovell at 646.307.5409 or karen.lovell(at)tor(dot)com.