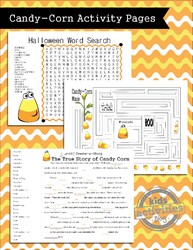 Have some Halloween themed fun with these great ideas.
Dallas, Texas (PRWEB) October 13, 2013
Halloween is just around the corner. Let the kids have a blast with fun Halloween games and Halloween themed coloring pages this fall. Seasoned moms are sharing their fun ideas on Kids Activities Blog this week.
The three festively decorated Halloween printable games feature a candy corn design. The first game is a Halloween word search perfect for kindergardeners through grade school. The Halloween printable maze is fun for any age child. The third game features the fun legend of the candy corn story, where kids or even adults can fill in the blanks to make the story come alive.
Let the kiddos have a blast with the silly monster coloring pages. The pages feature a shaggy headed monster with striped legs, a dew drop shaped monster with glasses and a bow tie, a ghostly fellow with a painter's hat and work boots, and lastly, a one-eyed monster ready for bed with a hot chocolate.
Color the pages with anything but markers and crayons. Use colored glue or paper strips to fill in the pages. Another fun idea is laminating the pages and let the kids have a blast coloring them over and over again with dry erase markers.
For detailed instructions and to get additional fun ideas, check out Kids Activities Blog this week. Come get inspired to let the kids have a blast this Halloween season.
About Kids Activities Blog
Kids Activities Blog is a website created by two moms (who collectively have 9 children), Rachel Miller and Holly Homer from June Cleaver Nirvana. It is their daily goal to inspire parents and teachers to play with kids. This interactive website publishes simple things to do with kids twice a day. Kids Activities Blog is a great tool for moms and teachers to find kid-friendly activities that create memories and sneak learning into the fun.