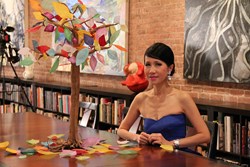 I think fashion as a form of art would become meaningless if depleted of emotional contents. Fashion and style are relevant because they elicit emotional responses in our lives. - Chiu-Ti Jansen
New York, New York (PRWEB) October 10, 2013
[CHINA HAPPENINGS™] is pleased to announce that SINOVISION recently featured a full-length interview of its founder, Chiu-Ti Jansen, in its "W.E. Talk" show. From her multicultural and multilingual childhood in Taiwan, to her education at Yale and Columbia, to her ground-breaking Wall Street career and to her recent media entrepreneurship, Chiu-Ti conversed with the show's host Naomi Choy Smith about how being a foreigner has been a defining experience in her life. The interview, conducted in English, first aired on September 18 and is currently in its multiple re-runs (http://en.sinovision.net/shows/we-talk/item/316-we-talk-chiu-ti.html).
Geoffrey Bradfield, an internationally known Architecture Digest 100-ranked interior designer who received the Lifetime Achievement Award from the School of Interior Design in 2013, described in the show how Chiu-Ti and him formed a bond based on common aesthetic sensitivity and artistic interests. "She has tremendous chic—I am always drawn to beauty, to people who are daring [and] have the courage to express themselves in a unique fashion... She certainly dazzles," commented Bradfield.
When Chiu-Ti was on the fast track of the Wall Street, she channeled her artistic passion into her art collection. This love of the arts is driving her exploration of new territories of writing, publishing and TV/film production. And fashion is an important element that runs through many of her self-defined genre-bending pursuits: "I think fashion as a form of art would become meaningless if depleted of emotional contents. Fashion and style are relevant because they elicit emotional responses in our lives."
Despite her bicultural education and professional training, Chiu-Ti readily acknowledged that balancing competing cultural heritages is not always a piece of cake. "It takes enormous courage to change from a culture that is safe...," Bradfield related Chiu-Ti's experience of being a cultural transplant to his own move from South Africa to New York. A self-styled "home-bound traveler," Chiu-Ti described how she tried to embrace the full abundance of the multicultural worlds.
W.E. Talk is a weekly talk show devoted to encouraging mutual understanding between Chinese and American cultures. Through interviews with people of extraordinary talents and stories who bring their vision to bear on the cross-cultural understanding between the East and the West, the program provides insights, generates ideas and promotes collaboration. The show covers a wide range of topics with enlightening personal stories. Across the fields of arts, business, culture, and education, its wide-ranging subjects involve viewers at home in a weekly discussion that will be both informative and inspiring.
SINOVISION provides premier Chinese and English language television programming in the United States. Its programming airs on WMBC-TV and is available on most area cable systems.
CHINA HAPPENINGS™
CHINA HAPPENINGS™ is a multimedia platform founded by Chiu-Ti Jansen that focuses on the lifestyle and cultural industries in contemporary China. Ms. Jansen is a TV presenter, a lifestyle magazine publisher and a writer based in New York City. She hosts TV and video presentations on fashion and style for Phoenix TV, Phoenix Fashion and SINA Fashion, and writes a blog titled CHINESE ELEMENTS for international auction house Sotheby's (http://www.sothebys.com/en/news-video/blogs/all-blogs/chinese-elements.html) and a fashion and style column titled NEW YORK IN STYLE for the Financial Times' Chinese edition (http://www.ftchinese.com/column/007000053). Prior to founding CHINA HAPPENINGS, Ms. Jansen was a New York-based corporate partner of an international law firm. A native speaker and writer of Mandarin Chinese, Ms. Jansen holds advanced degrees from Yale University and Columbia Law School and serves on the Contemporary Art Advisory Committee of China Institute in America and the Board of the Couture Council of Museum at the Fashion Institute of Technology (FIT).
Press Contacts: info(at)chinahappenings(dot)com