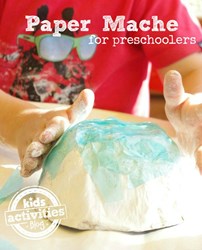 Paper mache projects are one of the most memorable crafts during childhood.
Dallas, Texas (PRWEB) October 10, 2013
Paper mache is one of the classic childhood projects. Seasoned Moms are sharing their kids' favorite paper mache crafts and a laundry list of preschool games. Both activities are simple and easy to do with items found around the house.
Kids love gooey paste and sculpting. Paper mache is one of the classic childhood projects that every child is remembering the most.
Making a paper mache bowl is easy. Working with a bowl is so much easier than using a balloon. A bowl is nice and stable for small hands.
Use a plastic or metal bowl. Slide a layer of plastic foil over it. Let the kids tear a nice amount of newspapers. Make up a mix of paper mache by using equal amounts of water and flour.
Let the kids dip the newspaper into the paste and layer the pieces over the bowl. Make about 5 layers. Let the bowl dry overnight. Gently press out the bowl.
Once the bowl is out, let the kids have a blast decorating it with paint, stickers, or tissue paper. Halloween is just around the corner, so let the kids have fun turing their new creation into a Halloween themed candy bowl.
A laundry list of games for preschoolers can be found with the Kneebouncers App. The application makes homeschooling preschoolers a bit easier. The activities are educational and can be easily adapted to the homeschool environment.
For detailed descriptions and to get additional fun projects for kids, check out Kids Activities Blog this week. Come get inspired to let the kids have a blast while they learn.
About Kids Activities Blog
Kids Activities Blog is a website created by two moms (who collectively have 9 children), Rachel Miller and Holly Homer from June Cleaver Nirvana. It is their daily goal to inspire parents and teachers to play with kids. This interactive website publishes simple things to do with kids twice a day. Kids Activities Blog is a great tool for moms and teachers to find kid-friendly activities that create memories and sneak learning into the fun.