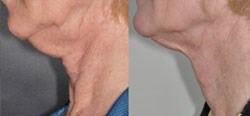 I wish I had known about this fantastic procedure years ago. Love my neck! - Camille C, Southampton NY
Commack, NY (PRWEB) October 10, 2013
A few years back, if you wanted to tighten the skin of your face, chin or neck, your only choice was a surgical procedure with significant downtime, expense and pain. The latest technology utilizing Radio Frequency (RF) technology delivers results without cutting, pain or stitches.
Exilis Elite delivers a stable reliable energy that breaks down dermal collagen stimulating new collagen production. The new collagen is better, stronger and more abundant leading to better skin tone which leads to tighter skin. Results are often seen after the first 2 sessions however significant tightening will be noted in approximately 3 months.
Why? Dr. Messina explains it takes several weeks for the neo-collagen to develop and several weeks for this collagen to exhibit skin effects.
Dr. Messina has been using the Exilis system for the past two years and recently added the Elite platform, nearly twice as powerful as the original system, which delivers results with less discomfort and treatment time.
Aside from facial skin tightening the Elite can be used for tightening the skin of the upper and lower arm, abdomen especially after giving birth and thigh.