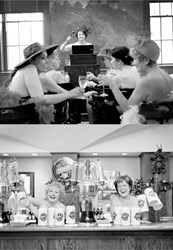 New Ulm, MN (PRWEB) October 15, 2013
On October 26th, 2013 at a grand gala, Turner Hall will release its second scandalous calendar. This event promises to be New Ulm's social event of the year. Guests have an opportunity to get their picture taken with scandalous women of the past, be treated to a fabulous six-course meal provided by executive chef Matt Melius, participate in an over-the-top live auction, be entertained by Deuces Wild Dueling Pianos, and be the first to see the 2014 Women of Turner Hall Calendar.
This year the models were brave women. They shot (nearly naked) in 40 degree weather with 40 mph winds, they cancelled due to snow and rescheduled to shoot in cold rain. Sessions were completed with violent mosquitoes and heat advisories. Unlike their 2011 men's calendar the pictures were not completed in two beers and ten minutes.
What is a Turner woman? A Turner woman is as diverse and unique as all women. Turner women were as revolutionary and controversial as they were commonplace and appropriate. It is as difficult to package what a Turner Woman is as it is to sum up the intricacies of a single personality. In an effort to celebrate the Turner Women let us explore just a snapshot of who they were. They were the ladies that sat in the Dutch Room while their husbands drank and networked at the bar. They dressed conservatively, and a shoulder or even an ankle was never to be seen. Despite those barriers, these women raised funds for Turner Hall, donated long hours of their time, and offered helpful advice on improvements while serving on boards and committees. Throughout their history, these strong women continually pushed limits, and were always looking forward. They are the mainstays of Turner Hall.
Since the institution of Turner Ladies in 1889, these women have played a central role in making the organization what it is today. These women are professionals, mothers, and advocates for Turner Hall in ways the women of yesteryear hoped to be. They possess the confidence to not always take things so seriously, and continue to push the limits for the generations ahead. They are Turnverein Members, business owners, and community leaders.
This calendar is a salute to the women of Turner Hall -- for their support in the past, their hard work in the present, and their contributions to the future. While German conservatism still runs in their blood, this calendar shows they can indeed enjoy some light-hearted fun, and even be a little scandalous in the process. These women took a risk to raise money for Turner Hall, and they hope everyone will enjoy this calendar as much as they all enjoyed making it.
Virginia Suker Moldan
Historic Turner Hall
507-354-2022 (office)
507-354-4916 (club room)