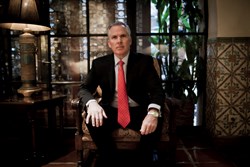 "In all my experience handling these types of cases, it never ceases to amaze me how many clients come to see me who were struck by a person on their cell phone.....this is truly an epidemic."
Corpus Christi, TX (PRWEB) October 09, 2013
The Corpus Christi City Council has passed an ordinance banning the use of handheld cell phones while driving. Drivers who are caught could face up to a $500 fine and may be ordered to attend a defensive driving course.
Thomas J. Henry was recently in the headlines for a $24 Million Dollar Verdict he secured for a client struck by a company vehicle being driven by a distracted driver (Cause No. 10-61510-2, Nueces County Court at Law No. 2) (1).
"I have seen just how dangerous the roads can be when people are distracted by their cell phones …" Henry said.
Henry goes on to say, "Having recently brought in some of the nation's pre-eminent experts on distracted driving to demonstrate the dangers, I am pleased the city has decisively addressed this public threat."
"In all my experience handling these types of cases, it never ceases to amaze me how many clients come to see me who were struck by a person on their cell phone. Even today people have contacted me. This is truly an epidemic."
"I wanted this type of ordinance to be put into place for not only people driving company vehicles, but for all people who get behind the wheel."
According to the Centers for Disease Control and Prevention, distracted driving was cited as a cause in 3,331 deaths in 2011 (2). Additionally, 387,000 people suffered injuries (2).
With 31 percent of drivers between the ages of 18 and 64 openly admitting that they had sent a text or email while driving within 30 days of being surveyed, it is evident that preventive measures need to be taken.
Unfortunately, enforcement of this new ordinance may not be enough to discourage all cell phone use by all drivers.
However, Henry concludes with, "Our city's efforts are vital. On behalf of my entire staff, I would like to thank the City of Corpus Christi for taking these steps to help make our city that much safer."
1. Corpus Christi Caller-Times, May 4, 2012, http://www.caller.com/news/2012/may/04/corpus-christi-jury-awards-24-million-to-woman/
2. http://www.cdc.gov/motorvehiclesafety/distracted_driving/