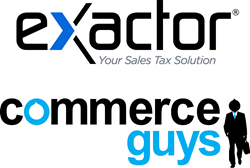 Accurate sales tax calculation is easy to implement so merchants can focus on their products and customers, with the assurance that logistics are being handled by the tools in Drupal Commerce.
London, England (PRWEB UK) 10 October 2013
Commerce Guys, creators of Drupal Commerce and the leading eCommerce company working with Drupal, announce that they have partnered with Exactor, Inc., the provider of sales tax administration services, to release the Exactor Drupal Commerce Module, which has been added to Commerce Marketplace and Commerce Kickstart. The Exactor Sales Tax Compliance Service allows retailers to easily incorporate sales tax into their Drupal Commerce shopping carts.
Exactor is a fully automated, end-to-end, cloud-based SaaS tax compliance solution. Features of the system include:

Free setup and customer service
Address validation
User transparency during orders
Line-by-line tax calculation for multiple delivery invoices
Comprehensive exemption management
Automatic generation and filing of sales & use tax returns in all jurisdictions at the state and local level
...all with no installation required.
"The Exactor system is another great support service for Commerce Marketplace and Commerce Kickstart," said Frédéric Plais, CEO, Commerce Guys. "Accurate sales tax calculation is easy to implement so merchants can focus on their products and customers, with the assurance that logistics are being handled by the tools in Drupal Commerce."
Once the Exactor service is enabled, no additional functions are required; taxes are seamlessly displayed in users' shopping carts. The cart automatically communicates with the Exactor system so there's no need for merchants to have to transfer data between systems.
"With the recent passage by the U.S. Senate of the Marketplace Fairness Act, and increased enforcement efforts by state tax administrators, Commerce Guys' partnership with Exactor eliminates an impending and increasingly complex burden for merchants," said Jonathan Barsade, CEO, Exactor. "Integrating the Exactor system within Commerce Kickstart provides a fully automated, seamless and transparent process that addresses retailers' most important needs, allowing merchants to focus on their sales, while Commerce Guys and Exactor take care of their taxes."
The Exactor module is available through Commerce Marketplace, a one-stop shop for site builders to access third-party vendor tools needed for building great commerce sites on Drupal. Exactor is also part of Commerce Kickstart, which allows site builders to create powerful Drupal Commerce-based sites with a demo store and catalogue that supports faceted search and great-looking product detail pages – within five minutes of downloading.
For more information on Exactor and to sign up for the service, please visit Commerce Marketplace.
About Exactor
Exactor is revolutionising sales tax compliance by providing the next-generation, end-to-end solution for secure, reliable and accurate sales tax compliance efforts, including tax calculation, record keeping and tax processing. Exactor's cloud based Software as a Service (SaaS) system introduces to sales tax compliance the same high standards and ease of use typically associated with payroll taxes. This allows you to focus on SALES, while Exactor deals with the TAX.
Visit our website and see how sales tax can be less taxing. http://www.exactor.com.
About Commerce Guys
Featured in Gartner Inc.'s Cool Vendors in E-Commerce 2012 and 2013 reports, Commerce Guys is the creator of Drupal Commerce, one of the fastest growing eCommerce solutions with over 30,000 active sites worldwide.
Drupal Commerce is a revolutionary software integrating commerce, content and community to create engaging Web experiences that bring e-retailers more traffic to drive more commerce. Commerce Guys technology and expertise provides online merchants with the powerful, responsive and innovative eCommerce solutions they need to thrive.
Visit us at http://www.commerceguys.com. Follow us on Twitter (@commerceguys) and Facebook (facebook.com/commerceguys). Be a part of the movement at DrupalCommerce.org.