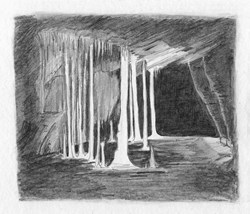 John once led an expedition to Gouffre Berger one of the deepest caves in the world.
London (PRWEB UK) 30 October 2013
A new book by the Pensioner Caver, John Gillett, gives inspiration to millions and shows age is no barrier to an active and often death-defying lifestyle.
After nearly sixty years of caving John Gillett is still actively heading underground at every available opportunity and sees no reason why this should ever stop. In fact he is so determined that caving holds the answers to a long and healthy life that he has even written a manual to encourage the rest of us to follow the hobbits into the underground lairs and tunnels beneath our feet.
A Bedside Book For Older Cavers is more than just a caving book though; it is a manual for prolonging a healthy lifestyle and sense of adventure no matter what age one happens to be. Often outrageously funny but always inspirational, this book offers plenty of advice to those of us determined to keep a sedate and passive retirement as far in the future as the hover car.
"I think that there is no barrier to having fun, whatever your age," said John, himself in his mid seventies. "You just need to manage any physical restrictions carefully and adopt a positive attitude to life."
A Bedside Book For Older Cavers has just been published by Mirador Publishing and further underlines their commitment to new authors.
"We loved this the moment we saw it," said Sarah Luddington, Mirador's commissioning Editor. "It's such a warm and positive book."
John's book is already garnering a steady flow of glowing reviews and is also proving to be a surprise hit with a younger readership who find its message just as relevant to them. John, who once led an expedition to Gouffre Berger one of the deepest caves in the world, has a wealth of experience underground and his passion for the sport is infectious. This book will prove to be a positive blueprint for all those of us who refuse to grow old gracefully.
A Bedside Book For Older Cavers is published by Mirador Publishing and is a available from all good bookshops and online stores both as a paperback and eBook in all the major formats.
Mirador Publishing can be contacted via their website at http://www.miradorpublishing.com.
John Gillett can be contacted via his publishers.