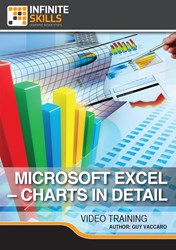 Learn this specialized Microsoft Excel - Charts in Detail training course at your own pace.
(PRWEB) October 09, 2013
Software training firm Infinite Skills Inc. this week released its "Microsoft Excel - Charts in Detail Tutorial," an intermediate course designed for experienced Excel users interested in mastering the use of charts in Excel.
By far the world's leading spreadsheet application, Excel has vast capabilities for producing visual representations enable users to present data in a way that makes it understandable.
Infinite Skills' "Microsoft Excel - Charts in Detail Training Video" teaches all the tools and concepts involved in learning to represent data with visually striking charts that tell the story within the numbers inside Excel spreadsheets.
Microsoft Excel - Charts in Detail Training Video
Course author Guy Vaccaro has more than 15 years' experience with Excel and Office Suite training in classroom, print, and computer-based formats. With a focus on Microsoft Office Suite, Vaccaro is especially accomplished in Excel and its uses in web and database functionality.
The course begins with an overview of Excel charts, teaching basic concepts like selecting data, working with Sparklines to create inline charts, choosing a type of chart, and using the tools in the chart sub-ribbons and properties box.
The course continues by exploring all the tools and techniques for designing charts, including chart layout, styles and colors, adding and manipulating shapes, and managing data labels.
Vaccaro covers all types of charts in Excel, including special chart types such as hybrid charts that combine multiple chart types in a single chart, creating a pie graph out of a section of a larger pie graph, and the more complex radar and scatter charts.
The course closes with a chapter devoted to printing and sharing charts, explaining how to print a chart, how to work with chart templates, and linking charts to other Microsoft Office applications like Word and PowerPoint.
"Charts represent your numbers in some kind of pretty visual format that hopefully makes the numbers easier to digest, easier to understand, or more meaningful for people having a look at them," Vaccaro explains.
"But we'll see that charts are not just pretty, they are functional, and choosing the right chart matters actually a great deal. We're going to look at how to determine which chart is right for your data."
Free demo videos and a full list of course contents can be found on the Microsoft Excel - Charts in Detail page of the Infinite Skills website:
http://www.infiniteskills.com/training/microsoft-excel-charts-in-detail.html
Infinite Skills offers its Microsoft Excel - Charts in Detail Training Video as a direct download from the company website at a retail price of $24.95. Though the compatibility of programs varies, all Infinite Skills titles and formats are compatible with both Mac and Windows operating systems, and shipping is available around the globe. Additionally, Infinite Skills tutorials are supported by project files which correspond to examples in the videos.
About Infinite Skills Inc.
A leader in the field of software training, Infinite Skills designs its courses on a task-oriented model, teaching complex skills by providing hands-on examples and guiding users as they carry out essential functions. Infinite Skills offers a wide range of software titles available as DVDs, digital downloads, and in iPad editions. Infinite Skills now offers a subscription service, providing access to all its training content for a monthly fee, keeping with company's aim of delivering professional training to customers anywhere they want to learn.