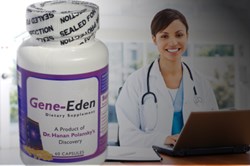 Nutritional supplements and vitamins are frequently used by people with CFS for symptom relief. - CDC
Rochester, NY (PRWEB) October 10, 2013
Human herpes virus 6 (HHV-6) is a member of the herpes virus family. It was the sixth herpes virus discovered. A study showed that the virus can cause Chronic Fatigue Syndrome (CFS), which is characterized by extreme fatigue that can't be explained by any underlying medical condition (1).
How can HHV-6 cause CFS?
According to Medscape.com "After primary infection, HHV-6 remains latent unless the immune system is compromised, at which time the virus may reactivate (2)." An article on Sciencedaily.com, which discussed the study published in the Journal of Medical Virology said that "HHV-6 is unique among human herpes viruses; during latency, its DNA integrates into the structures at the end of chromosomes known as telomeres (3)."
In addition, "this integrated HHV-6 genome can be inherited from parent to child, a condition commonly referred to as "chromosomally integrated HHV-6," or CIHHV-6 (3)."
While most individuals infected with the inherited version of HHV-6 appear healthy, they may be less able to defend themselves against other strains of HHV-6 that they might encounter. It has been observed that "…some of these individuals suffer from a CFS-like illness (3)."
There is no known cure for CFS. As a result, the CDC writes on its website that "Nutritional supplements and vitamins are frequently used by people with CFS for symptom relief. (4)"
Thousands of studies showed that many natural ingredients work effectively against the herpes virus.
As a new study published in the medical journal RSC Advances said "Natural products, particularly traditional medicines, which have provided multiple novel drug leads, are known to be an important source of anti-HSV agents (5)." The CBCD believes that natural products can be developed, which are safe and effective against the herpes virus.
Because of that belief, the Center became excited when polyDNA asked the CBCD to test its flagship, natural antiviral product. The Center was happy to discover that a post-marketing clinical study provided evidence for the safety and effectiveness of Gene-Eden-VIR. The study was published in the peer reviewed, scientific journal Pharmacology & Pharmacy, in a special edition on Advances in Antiviral Drugs (6).
The CBCD study showed that Gene-Eden-VIR reduced symptoms that come from a herpes infection. Study authors wrote that, "individuals infected with herpes…reported a safe decrease in their symptoms following treatment with Gene-Eden-VIR (6)." The study authors also wrote that "We observed a statistically significant decrease in the severity, duration, and frequency of symptoms (6)."
To view the entire paper on Gene-Eden-VIR, visit: http://www.scirp.org/journal/PaperInformation.aspx?PaperID=36101.
We invite the media to contact us for interviews at: info(at)buy-gene-eden(dot)com or phone 585-250-9999.
---
References:
(1) http://onlinelibrary.wiley.com/doi/10.1002/jmv.23685/full
(2) http://emedicine.medscape.com/article/219019-overview
(3) http://www.sciencedaily.com/releases/2013/07/130726092427.htm
(4) http://www.cdc.gov/cfs/management/medicines.html
(5) http://pubs.rsc.org/en/content/articlelanding/2013/ra/c2ra21464d#!divAbstract
(6) http://www.scirp.org/journal/PaperInformation.aspx?PaperID=36101
The Center for the Biology of Chronic Disease (CBCD, http://www.cbcd.net) is a research center recognized by the IRS as a 501(c)(3) non-for-profit organization. The mission of the CBCD is to advance the research on the biology of chronic diseases, and to accelerate the discovery of treatments.
The CBCD published the "Purple" book by Dr. Hanan Polansky. The book presents Dr. Polansky's highly acclaimed scientific theory on the relationship between foreign DNA and the onset of chronic diseases. Dr. Polansky's book is available as a free download from the CBCD website.