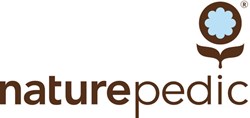 Cleveland, OH (PRWEB) October 09, 2013
Naturepedic and Lullaby Earth, located in Chagrin Falls, Ohio, were given an award at the National Pollution Prevention Roundtable's 2013 MVP2 Awards ceremony for being a charter member of the organization's "Safer Chemistry Challenge Program." The Roundtable promotes toxics reduction and safer chemical alternatives and products. Naturepedic and Lullaby Earth were recognized for designing and manufacturing mattress products with safer chemistries.
Naturepedic and Lullaby Earth mattress products are designed to meet all government flammability standards without the need for fire barriers or flame retardant chemicals or other controversial chemicals.
Naturepedic® is known for its award-winning certified organic baby mattresses and recently launched a full line of organic adult luxury encased-coil and latex mattresses. It is the only company in the U.S. to provide organic cotton-encased coil organic mattresses that are certified to the Global Organic Textile Standard (GOTS). In addition, all the latex is certified to the new Global Organic Latex Standard (GOLS), which the company helped pioneer.
Lullaby Earth™ offers the nation's first line of affordable, super-lightweight, non-toxic, and recyclable crib mattresses that are also packed with health and safety features for babies. The crib mattresses are free of vinyl/PVC, polyurethane foam (including "soybean" foam), PFC- and antibacterial-treated fabrics, as well as controversial fire retardants and known allergens. They are also waterproofed with easy-to-clean food-grade polyethylene.
For more information about the award, see http://www.p2.org/challenge/.