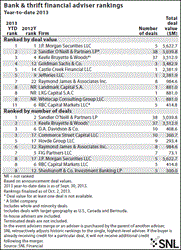 Everything is coming back slowly, and it's going to take some time.
(PRWEB) October 10, 2013
With the stock market in general — and bank stocks in particular — continuing to perform well, M&A among financial institutions will likely continue its slow yet steady pace. Buyers are looking for opportunities to gain scale and market share, while would-be sellers have the same reasons to pursue deals they did a year ago: regulatory costs, good (but not great) loan demand and an outlook of lower profitability for the next 12-18 months.
When banks and thrifts do reach agreements, it is often with the help of two firms in particular. Sandler O'Neill & Partners LP and Keefe Bruyette & Woods Inc. ranked atop SNL's bank and thrift M&A league table for financial advisers in terms of the total number of whole and minority deals in the first three quarters of the year. Sandler O'Neill topped the table with 38 deals, followed by Keefe Bruyette & Woods with 37. D.A. Davidson & Co. and Commerce Street Capital LLC came joint third, both advising on 10 deals. A strong third-quarter powered Sandler O'Neill to the top of the league table for the first three quarters after the firm trailed Keefe Bruyette & Woods at the year's midway point.
JPMorgan Chase & Co.'s JPMorgan Securities ranked first by total deal value, advising on deals worth a cumulative $5.62 billion. Sandler O'Neill was second, advising on deals worth nearly $5.04 billion, according to SNL data.
In many cases, sellers' price expectations have increased, yet those banks will often seriously consider deals with the right buyer that has publicly traded stock and dividends, Thomas Rudkin, a managing director of investment banking at Syndicated Capital, told SNL. He said there are always a great number of "wait-and-see" bankers during active and even not so active markets. "They represent a majority of the banks that consider themselves to be for sale," he said. Only about 10% to 15% of banks that claim to be for sale are serious about it, he added.
Read the entire story here: http://www.snl.com/InteractiveX/Article.aspx?cdid=A-25324853-12590