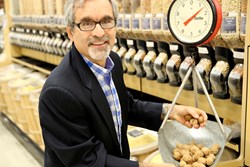 Loma Linda, CA (PRWEB) October 09, 2013
Last year, Dr. Joan Sabate was presented with the 2013 "Golden Nut" Award during the 31st World Nut and Dried Fruit Congress in Singapore for his lifelong work determining the health benefits of nuts.
To say that the Loma Linda University Health researcher is a fan of nuts would be an understatement.
In 1993, he sent tremors through the world of health and nutrition with his seminal paper, published in the prestigious New England Journal of Medicine, concluding that eating walnuts provides protection against heart disease. This finding went against then-conventional wisdom that the fats found in nuts were harmful.
Two decades later, Dr. Sabate, 58, is still at it. He is now presiding over a large-scale study, called the Walnuts and Healthy Aging (WAHA) Study, that hopes to determine links between walnut consumption and brain, eye, and cognitive functions. This research project is currently looking for volunteer participants.
"In the '80s and early '90s, nuts had a very bad reputation, because they're very high in fat and heart specialists were telling everyone to avoid them," he said. "Now, we have found with no doubt that eating walnuts lower cholesterol beyond the effect of the diet recommended for lowering cholesterol. This contributed to the paradigm shift in the thinking that all fats are bad."
The findings were met with mixed reactions from those in the scientific community because of the prevailing attitude. But most naysayers have since come around, as follow-up studies over the years affirmed that the unsaturated fats in nuts have healthful benefits.
Dr. Sabate, a native of Barcelona, Spain, came to Loma Linda University on a Fulbright scholarship 29 years ago after completing his medical studies in his native country. An internal medicine specialist, he said he was attracted to further his education at Loma Linda University because, even then, they had established prominent work on preventive medicine.
With wife, Carmen Llorca, and a baby in tow, Dr. Sabate focused on studying nutrition at Loma Linda, and later accepted an offer of employment at the school, where he now heads the Department of Nutrition at the Loma Linda University School of Public Health. The couple has three children, now all adults.
Dr. Sabate said his interest in nuts was inspired by another study out of Loma Linda University, the famed Adventist Health Study 1, which, among other findings, determined that nuts and whole grains appeared to have protective benefits to health.
While some members of the scientific community may not have been as receptive of his early findings, Dr. Sabate said he's proud of what his efforts have achieved.
"I think it helped shape the psyche of the American public that you don't always have to take away from the plate for it to be healthy, but you can also add to it," he said.
He's also excited about what the new study may find, in light of growing numbers of people who are becoming seniors.
"It's worth studying because as our population ages, the percentage of people who develop memory and cognitive issues is increasing," he said. "We want to move to a different direction now. After studying nuts and heart disease, we thought we would study nuts and the brain."
Participants are still being sought for the WAHA study. For more information, visit http://www.WAHAstudy.org or call 909-558-4300 ext. 47170 or 1-877-558-6248 (1-877-LLUMC4U). To be eligible, you must be between the ages of 63 and 79, in reasonably good health, and able to come to Loma Linda University once every two months,
Loma Linda University Health is also one of the sponsors of the upcoming 2013 Live Well, Age Well Summit, set for 7:30 a.m. to 5 p.m., Thursday, Nov. 14, at the National Orange Show Events Center in San Bernardino, Calif.
Photo Caption: Dr. Joan Sabate, principal investigator of the Walnuts and Healthy Aging (WAHA) study, wants to find the links between nut consumption and the brain. Dr. Sabate, chairman of the Department of Nutrition at Loma Linda University School of Public Health, has spent the last two decades studying the health benefits of nuts.
###
About Loma Linda University Health (LLUH)
Loma Linda University Health includes Loma Linda University's eight professional schools, Loma Linda University Medical Center's six hospitals and more than 900 faculty physicians located in the Inland Empire of Southern California. Established in 1905, LLUH is a global leader in education, research and clinical care. It offers over 100 academic programs and provides quality health care to 40,000 inpatients and 1.5 million outpatients each year. A Seventh-day Adventist organization, LLUH is a faith-based health system with a mission "to continue the teaching and healing ministry of Jesus Christ."