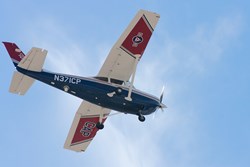 "CAP's award-winning publications ... effectively communicate our focus on citizens serving communities across America," said CAP National Com.
Biloxi, MS (PRWEB) October 09, 2013
Civil Air Patrol was honored with two awards during the Southern Public Relations Federation's 2013 annual conference held Sept. 29 – Oct. 2 in Biloxi. The 2012 Financial Report and the Civil Air Patrol Volunteer, the organization's national magazine, both received an Award of Excellence.
SPRF recognizes outstanding work in the field of public relations through its annual Lantern Awards program. Awards, including Certificates of Merit, Awards of Excellence and Lantern Awards, are given in 25 categories. Entries are judged based on the factual materials and documentation presented. Points are awarded for research, planning, implementation, evaluation and creativity, with half of the points weighted in implementation.
"CAP Public Affairs consistently produces award-winning publications that effectively communicate our focus on citizens serving communities across America, often at a moment's notice, but always as highly skilled unpaid professionals,"said CAP National Commander Maj. Gen. Chuck Carr. "We are proud to have these opportunities to communicate who we are and what we do and, in the process, to attract recognition for a job well done."
The Southern Public Relations Federation is a network of public relations professionals from Alabama, North Florida, Louisiana and Mississippi who share a common interest in the public relations profession. Membership in the Federation is automatic for members of the Public Relations Council of Alabama (PRCA), the Emerald Coast Public Relations Organization (ECPRO), the Public Relations Association of Louisiana (PRAL), and the Public Relations Association of Mississippi (PRAM).
Civil Air Patrol, the official auxiliary of the U.S. Air Force, is a nonprofit organization with nearly 61,000 members nationwide, operating a fleet of 550 aircraft. CAP, in its Air Force auxiliary role, performs 90 percent of continental U.S. inland search and rescue missions as tasked by the Air Force Rescue Coordination Center and is credited by the AFRCC with saving an average of 80 lives annually. Its unpaid professionals also perform homeland security, disaster relief and drug interdiction missions at the request of federal, state and local agencies. The members play a leading role in aerospace education and serve as mentors to more than 26,000 young people currently participating in the CAP cadet programs. CAP received the World Peace Prize in 2011 and has been performing missions for America for 72 years. CAP also participates in Wreaths Across America, an initiative to remember, honor and teach about the sacrifices of U.S. military veterans. Visit http://www.gocivilairpatrol.com or http://www.capvolunteernow.com for more information.