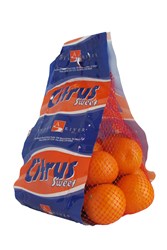 Minneapolis, MN (PRWEB) October 10, 2013
Conwed, the leading plastic netting manufacturer in the world, will be showcasing its latest netting innovations in packaging at PMA 2013 – Fresh Summit Convention & Expo in New Orleans, LA (October 18 - 20, 2013).
Fresh Summit brings together the leaders in the world of fresh produce to conduct business and examine trends and topics of common interest. Attendees of this event range from food service operators, distributors and consultants to growers, shippers, wholesalers and retailers. With more than 18,500 people participating, Fresh Summit can help anticipate change and identify emerging trends and discover new business opportunities.
"We have one of the most extensive packaging portfolios in the world. Visitors at PMA 2013 will have the opportunity to see our complete line of packaging options including our newest knitted and extruded Carry Bag Mesh products," said Bart Sistrunk, Packaging Business Unit Manager, at Conwed.
Extruded Carry Bag Mesh, by Conwed, is a packaging netting design that features flattened joints to reduce abrasion and prevent damage to users' skin. It also provides reliable and consistent performance on a wide range of carry-bag packing equipment. "Providing a superior level of protection to produce without sacrificing display appeal is our main goal. Our netting designs offer an exceptional packaging alternative for packers, wholesalers and retailers" said Sistrunk.
Conwed will be featuring three main products; Carry Bag Mesh, Vexar® Tubular Netting and Vexar® Header Bags. With over 45 years of experience driving innovation in netting technology, Conwed prides itself in working closely with customers to identify their specific needs and develop customized packaging solutions. (Conwed- PMA Booth 4217)
About Conwed
Conwed is the leading plastic netting manufacturer in the world. Conwed manufactures extruded, oriented and knitted netting with unique customization capabilities. Headquartered in Minneapolis, Minnesota, Conwed has five manufacturing locations on two continents and a global distribution network. Learn more at http://www.conwedplastics.com.