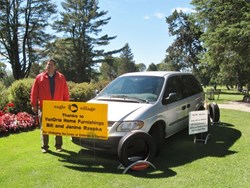 Hersey, MI (PRWEB) October 12, 2013
For a third year, VanDrie Home Furnishings and Bill and Janine Rzepka hosted and organized a golf outing at the Cadillac Country Club to benefit Eagle Village.
Members of the Cadillac community and surrounding areas came out to enjoy a day of golf, friendly competition and a meal catered by Ebel's of Falmouth. They had a common goal – to raise funds to strengthen the programs Eagle Village provides for Michigan children and families.
In addition to the dollars raised for complete basement remodel projects, which will double the amount of living space in each, enough funds were also raised to purchase new tires for the vehicle fleet and an excellent condition used minivan was donated the day of the event.
Craig Weidner expressed his appreciation for the support of VanDrie Home Furnishings, the Winkle family and the Rzepkas.
"Our work at Eagle Village thrives because of all the participating golfers and sponsors who enjoyed being part of this event. Each person involved has such a heart for kids and through their generosity, Eagle Village is able to reach out to and provide life-changing services to more families across Michigan. The dedication of VanDrie Home Furnishings, the Winkle family and the Rzepka family for hosting this now-annual golf outing is appreciated beyond words."
Jeremy Winkle of VanDrie Home Furnishings said, "Eagle Village is a great place for kids and families that need help. Every day Eagle Village staff carries out the hard work of providing education and encouragement throughout the healing process. By hosting the golf outing we are trying to do our small part to help support the mission of Eagle Village."
Eagle Village has been a non-profit leader in providing programs that directly improve the health and well-being of children and families since 1968. Services available to any family in Michigan include Intervention and Summer Camps, Residential Treatment, Foster Care & Adoption and a Camp & Retreat Center. For more information about Eagle Village, their programs or to get involved, call 231-832-2234. http://www.eaglevillage.org