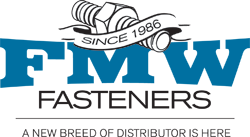 Houston, Texas (PRWEB) October 10, 2013
As demand has increased thanks to the "Buy American" provisions of the American Recovery and Reinvestment Act, FMW Fasteners is now stocking a complete line of domestic bolting to include Grade 5, Grade 8, L9® (Grade 9), A325 and A490 structural bolts.
FMW Fasteners offers free shipping on orders over $25.00 and flat rate $5.00 shipping on orders under $25.00.
FMW Fasteners is your online source for premium fastener products, to include anchor products, nuts, bolts, socket products and screws. Founded in 1986 in Houston, Texas, FMW Fasteners stocks premium products by Brighton-Best, Simpson Strong-Tie Anchor Systems, ITW Buildex, Intercorp, Toggler® Anchor Systems, FastenMaster and many more. For more information, visit http://www.fmwfasteners.com or follow FMW Fasteners for updates and promotions on Twitter, Google+ and Facebook.